Oh, that's right.
It was actually, let's see, a week and a half ago?
You've got to be kidding me.
Someone has turned time on fast-speed and I cannot keep up with life these days.
So we'll just enjoy life twice, even if it's 10 days late. :)
Who all loved that July 4th fell on a Friday??
*RAISES BOTH HANDS*
I mean, seriously. Not only was it a holiday, but it was also a 3-day weekend.
How much better does it get?!
Which meant Ben was home for three days.
Which meant it was lots of family time.
Which hasn't happened much lately, so it was all the more blessed.
I posted that day:
It's a cookie-baking, lemonade-making, pet-bunny-buying, daddy-at-home-deck-remodeling, red-white-and-blue-wearing, pool-swimming, flag-flying, holiday-celebrating, kind of day!
It really was just a wonderful kind of day.
Sometimes the most special days are those of just BEING TOGETHER.
I think I realize this more than ever, because of recent deaths in my family, and my dear friend passing…
So this post is just a celebration of that beautiful simple gift: of being together.
I suppose it's a little tradition around here to take a few holiday pictures each July 4th, and it's so amazing to see the change from year to year. But because it nearly makes me cry to look back on even last year's pictures and see how much the kids grew, so I think we'll just skip that part. (I'm all in sentimental-mom-let's-just-freeze-everyone-right-here-mode.)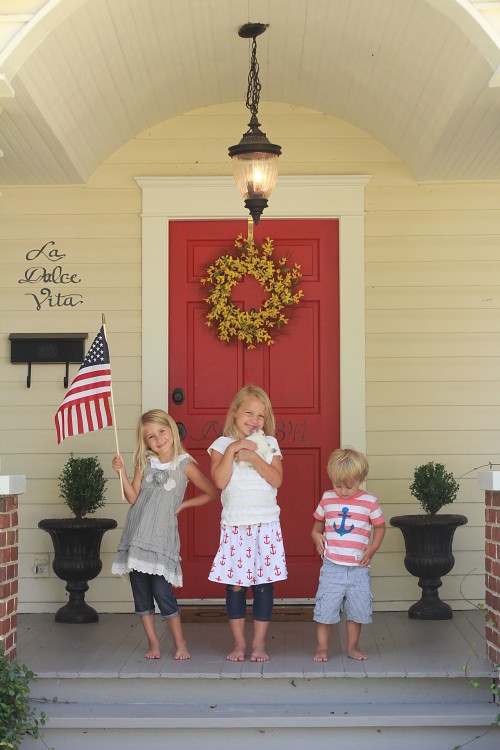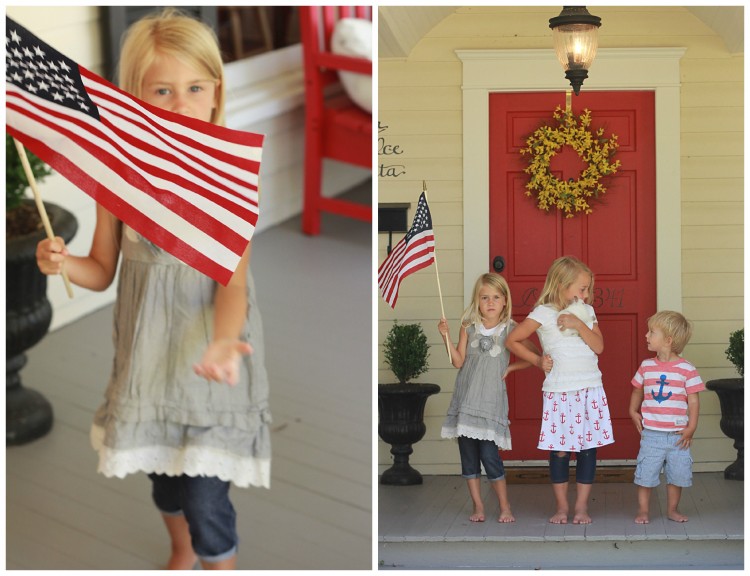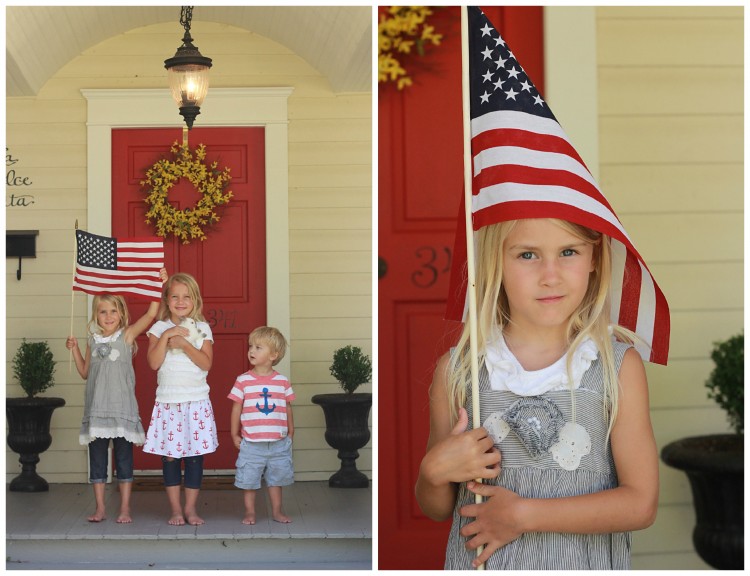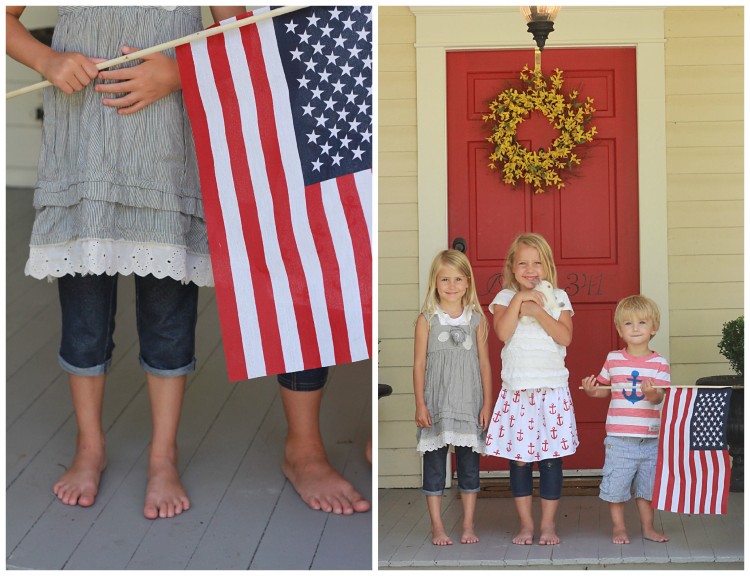 I'm a little fanatical about anchors right now. It's a theme of my life, this Anchor of my Soul, so I have it on chalkboards in my house, and painted it on T-shirts for me and the kids. Hudson "cheeeeese"-ed for me in his shirt.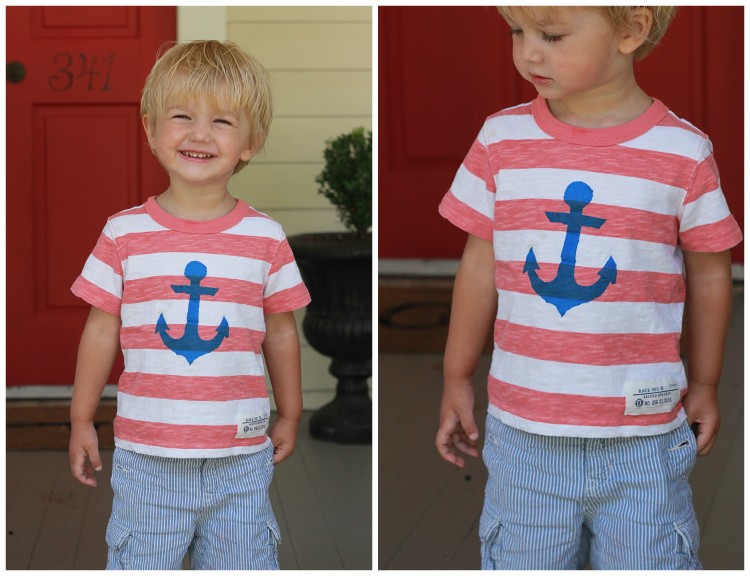 We also bought an early birthday gift for Zoe…
She has longed – and I mean LONGED – for a pet rabbit for years.
Granted, she's only 6, but she's been calling her daddy since she was 4, leaving voicemails,
asking if she could "pleeeeeeeeease have a pet bunny? Because it really would be so wonderful to have a pet bunny and I would take care of it and would love to play with it and they're so cute and soft and I JUST REALLY REALLY WANT ONE."
We live in the city (read: more like development), and having a pet of any kind (other than a goldfish) is a little impractical at best, and troublesome at worst. Our backyard isn't fenced in, and how would a pet even work?
But, when you have a little girl with big blueberry eyes that nearly fills with tears because of her desire for a pet bunny for the past two years, it's rather hard to resist. My mommy heart melted, and I didn't care about the impracticals: I just wanted a pet bunny for Zoe, non-animal-lover that I am.
Her daddy's heart melted too, and craigslist came through for us. Found: Netherland Dwarf Rabbits. As I mentioned, I'm no pet lover (after my best-friend-dog died when I was 10 and I cried for days and I've never loved another animal since. But that's a story for another time, maybe I should go for counseling first.), but the sight of those adorable little fluffy bunnies, well, they really WERE cute.
Ben wanted to surprise the girls, so they were waiting on the front porch when he came home, eyes closed. Someone (we won't mention names) needed to hold her eyes closed.
The look on her face…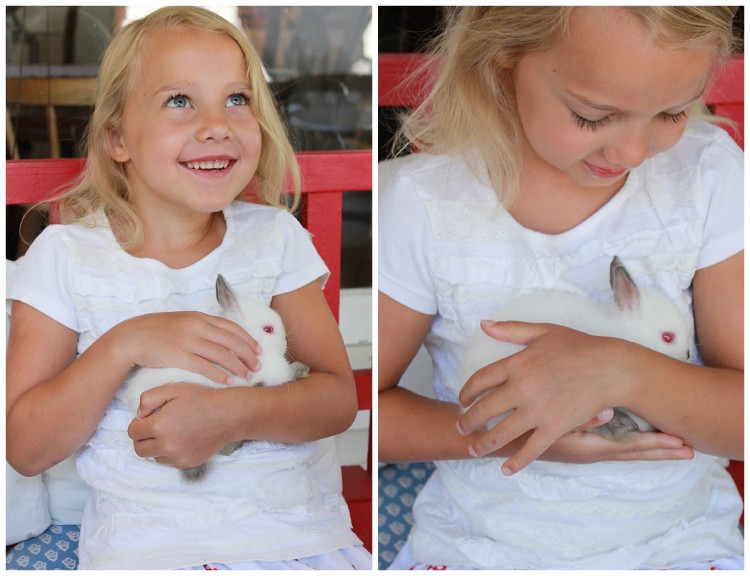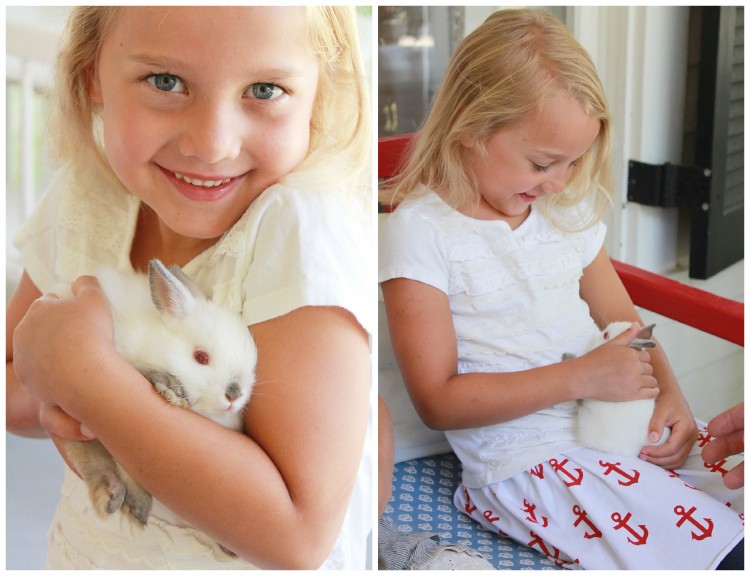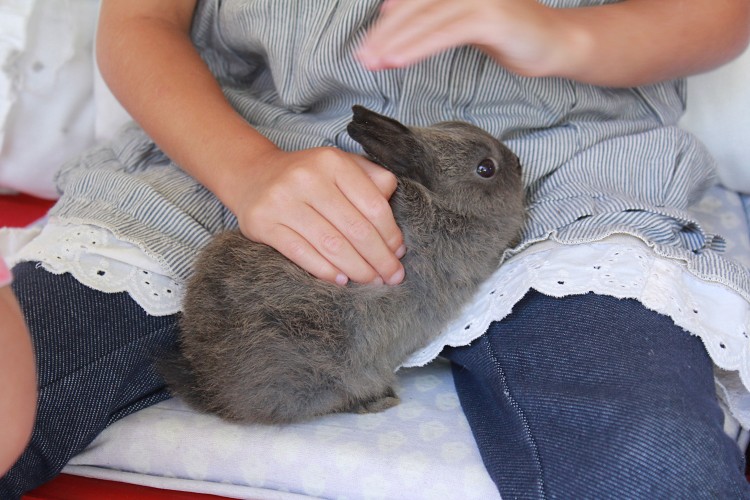 You've got to admit, they really are adorable. :)
After 10 days, the newness has worn off just a bit for the kids, but they are still loved.
The rabbit hutch has yet to be built [because of the following deck project, see below]
so the bunnies are, um, in the house.
I can't believe it either.
****************************
We did the "staycation" deal over this holiday.
If you can call working-around-the-house-day-and-night a staycation.
We were thrilled with the arrangement however.
When you are homeowners, you know that nothing is ever fully completed.
There is always SOMEthing to do.
This time, it was the back deck.
I suppose I haven't shown many pictures of it.
And when I have, it's been blurry, in the background, you know?
Camouflaged by pumpkin painting and flowers in vases that my little girl picked.
Not really something I'm ashamed of, but not really anything worth seeing.
Not when it's had nails poking out everywhere, or rotten boards falling down.
Not when it hurts your feet to walk barefooted because of all the splintery things poking out everywhere.
We used it strictly as a place to get out of the house and into the backyard, or out to the car.
The table and chairs and everything else are only for looks, trying to make a café-esque feel to distract from the bigger elephant-on-the-deck,  lest you're wondering.
Well, we finally saved up money to replace it. (*yippee!*)
This was the perfect weekend to complete get started on the project.
// back deck before //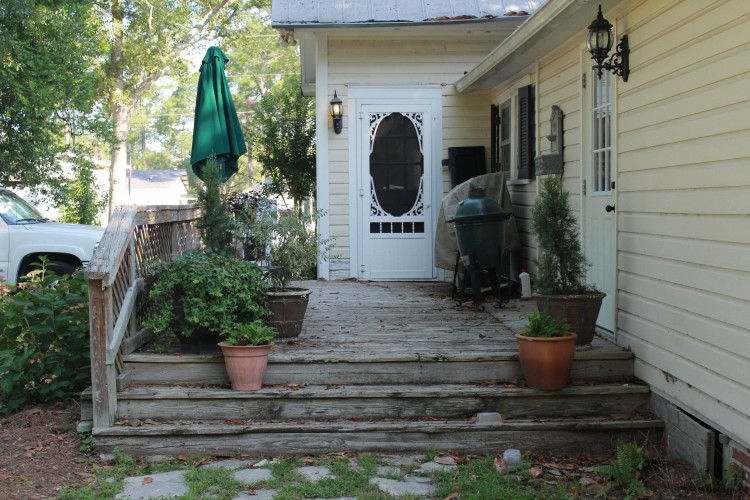 // My view out the kitchen window, beginning the tear-out. //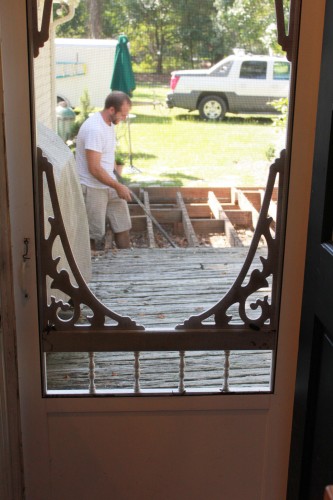 // Olivia and I made them fresh lemonade and fresh cookies //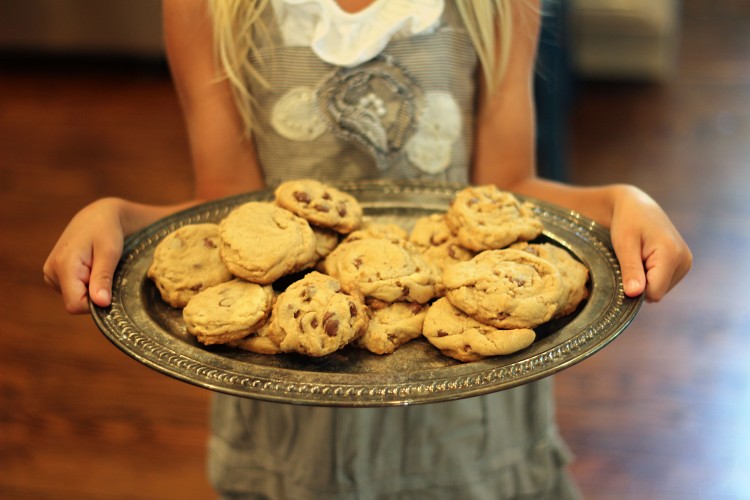 Day two: leveled to the ground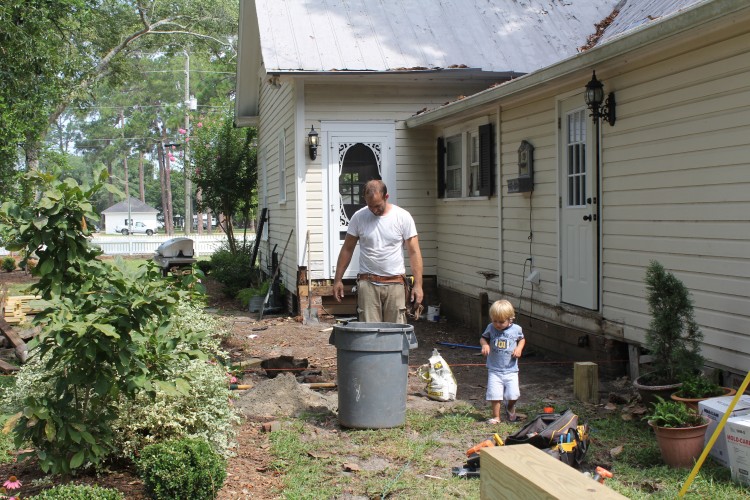 Day two: rebuilding began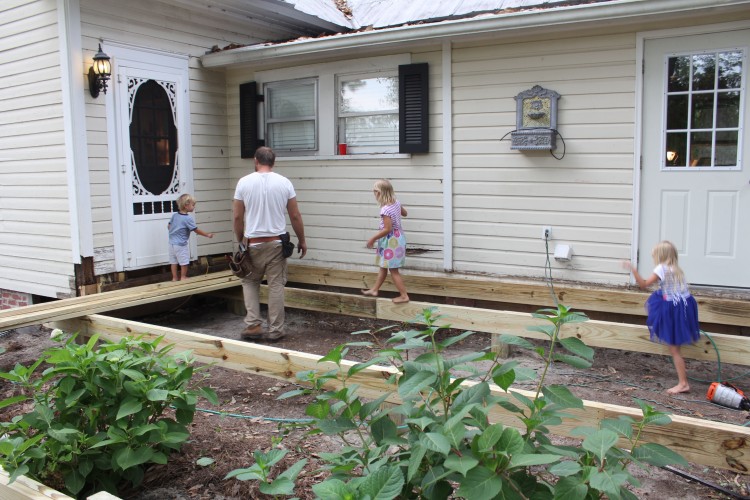 As I speak, er, write, it is still a work in progress.
We teeter across 2X6 boards standing on end 18 inches apart as we go out to the car because we haven't had time yet to  put down the floor boards.
I tell my husband I'll gladly learn how to saw the boards and use the drill to put them down myself, but he's not so keen on that idea. So I tell him I'll also gladly – GLADLY- be his right-hand assistant, whenever he has time. Which he says may be today. I'm really trying not to get my hopes up too high, and my lips will speak nary a reminding word. I'll just offer him fresh-squeezed lemonade and (microwave-warmed) cookies. :)
As a grand finale on the lovely day, we went to a local blueberry patch and picked blueberries. I forgot my camera, but I have an Iphone picture. Kids in a blueberry patch are just so precious. My son was too adorable ~ grabbing blueberries from bushes, from our buckets, and stuffing his little mouth. I laughed at him all evening.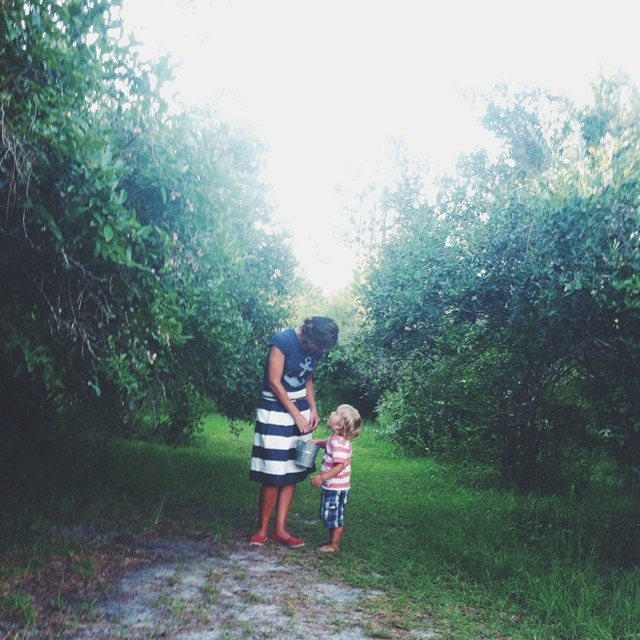 My sister Ervina worded it so beautiful when she said, "I'm so thankful most of all that freedom is not a flag, but a cross." 
I am thankful for the freedom of the flag represents, yes. But the Cross purchased the truest freedom, one that can never be taken captive. Thank you, Jesus.
Happy Monday, you all!
Mine is off to a busy start, including a bowl of cereal and milk spilled all over the floor, and little boy in the throes of potty training. Yep. I'm choosing joy, peoples. :)