You all know by now how much I love my Plexus products. :) Because I've experienced such a complete health change, I cannot help but be so grateful! And when I daily hear stories of people being so helped by the products, I'm excited!
So I know there are some super healthy people out there and you don't feel that you need Plexus, and that is just fine. I am so happy for you, that you are healthy and well!
But for those who are curious, who are looking for something to bring better health to their families, I just wanted to let you know about a special going on this weekend! This will be short and sweet! :)
Sooo, if you are…
1. Someone who wants to get healthy.…
2. Someone who wants to lose 10 Ibs. or more.
3. Someone who wants stronger hair/nails.
4. Someone who needs help managing stress or getting focused.
5. Someone who eats cheat meals every now and then.
6. Someone who wants to get rid of a muffin top.
7. Someone who wants to be less anxious.
8. Someone who wants to build their immune system
9. Someone who needs to eat less sugar
10. Someone who loves to workout.
11. Someone who wants to sleep better at night
12. Someone with aches and pains
13. Someone who wants to drink more water.
14. Someone who wants more energy.
15. Someone who is tired of taking medication.
16. Someone who wants to reduce C-section scars.
17. Someone who wants to balance their hormones out or has thyroid issues. 
18. Someone who wants to be free of monthly cramps.
19. Someone who wants to increase their breast milk supply.
20. Someone who wants to experience less morning sickness.
… then you would love Plexus!!
And if you want a great deal on the products and want to get them at MY cost (wholesale pricing), then you'll want to consider this 1/2 price membership special! This weekend only, from July 3-5th, anyone can join for $17.95. This gives you access to all the products at the best price possible.
The beauty of this is that there is also a business opportunity that comes with this deal! It comes with your own website so others can order  Plexus products through you. But, you do not have to sell products in order to become an ambassador! Many people join just for their own price benefits.
It doesn't get any better than this! Here's your chance to get ALL of your Plexus products at wholesale pricing for an entire year for just $17.76!!!
Whether you join to take advantage of the great discounts on products or for the incredible business opportunity, it's a win/win! No tricks.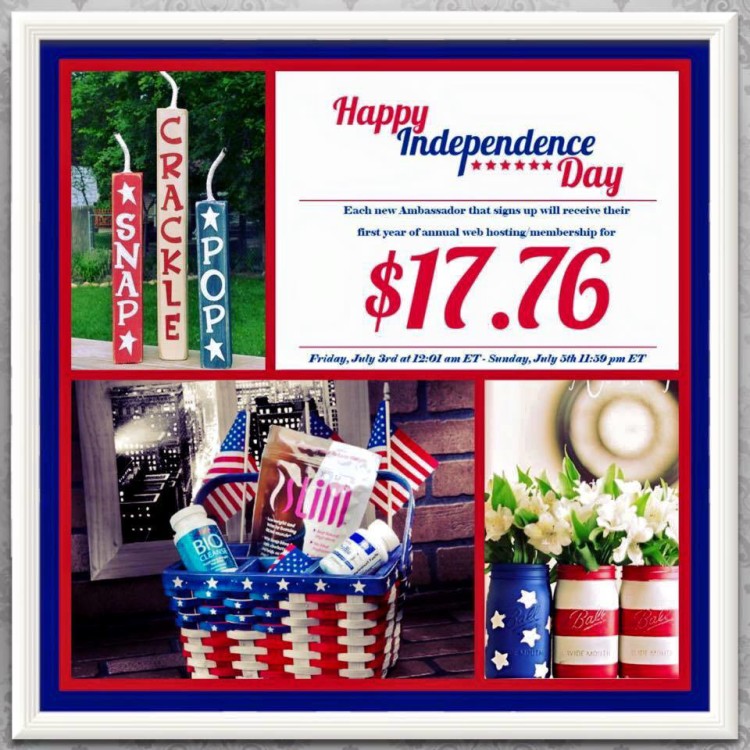 Do you like to hear other people's stories and opinions? Me too!
Here's a beautiful story to watch: https://www.youtube.com/watch?v=AIFzQZhAU1s
And if you're curious about what the products do, here is a nutritionist that talks about them: https://www.youtube.com/watch?v=rrZAwP2oE6A&feature=youtu.be
If this is something you're interested in and have questions about, feel free to message me in the 'contact' tab on my blog.
Or if you're ready to join, click on the 'Plexus' tab at the top of my blog, then 'Join Plexus"! This will give you the sign-up steps. :)
And, if you'd like to be eligible to win a 7-day trial of the Plexus Slim, leave a comment with the numbers of 1-20 that apply to you in the "someone who" above. A winner will be chosen on Monday!
Have a wonderful weekend, everyone!