So! I am over the top excited to show some pictures of our renovation process! Last fall felt like a whirlwind of action and work as we began the attic renovation and completed it in 10 weeks, just in time for the Christmas Tour of Homes we were scheduled for.
We thought our following two months would be slow(er), but they've also been filled up with some unexpected events, bringing us almost to March and I still haven't shown the attic reveal!
There are several rooms that have been changed around here at the Cottage as a result of two additional rooms upstairs, but today we'll begin with the attic, and the Office Studio on one side.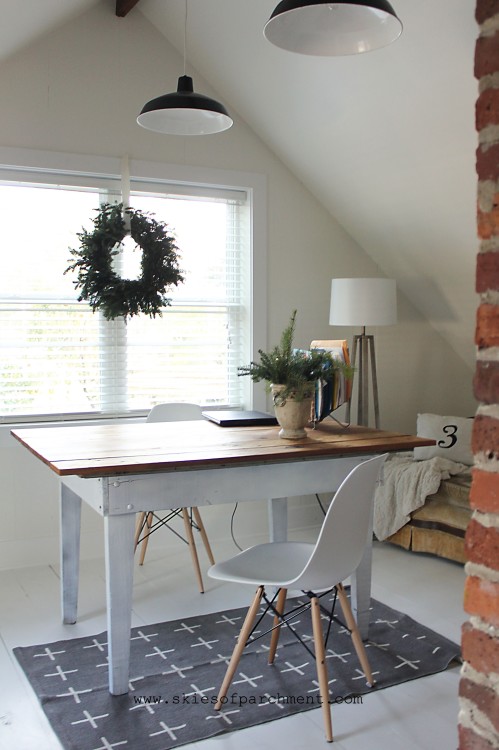 I have told people that if someone would bring me food and water, I could literally live in these two rooms upstairs. I absolutely love it!
I (I saw "I" because my husband very kindly let me choose the colors and style up here, but he did 99% of the work) went with whites – white on the walls, white on the floor, painted white wood on the end wall… A lot of white.
I was inspired by Swedish and Norwegian homes of much white space, and therefore minimalistic décor. I wanted a very simple look with clean lines. I couldn't be happier with how this space turned out!
But first! A before shot. No windows, no insulation, not even a floor. Just dark.
We were working with a small-ish space, with very steep roof lines, and so wanted to use the fullest potential of this area.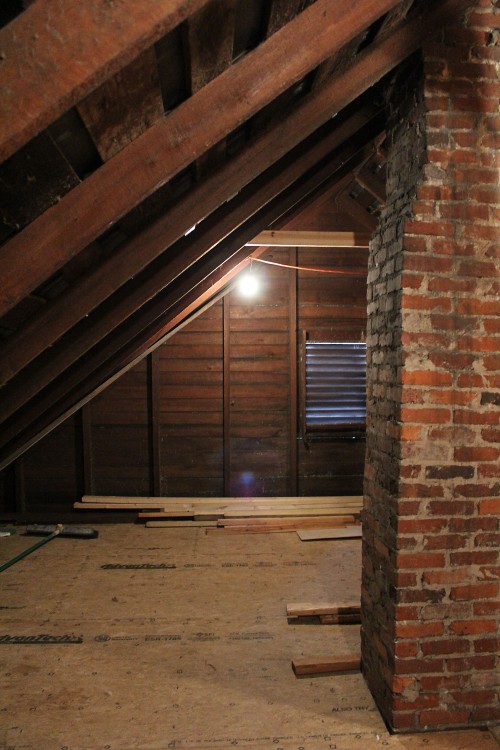 And the same space, after: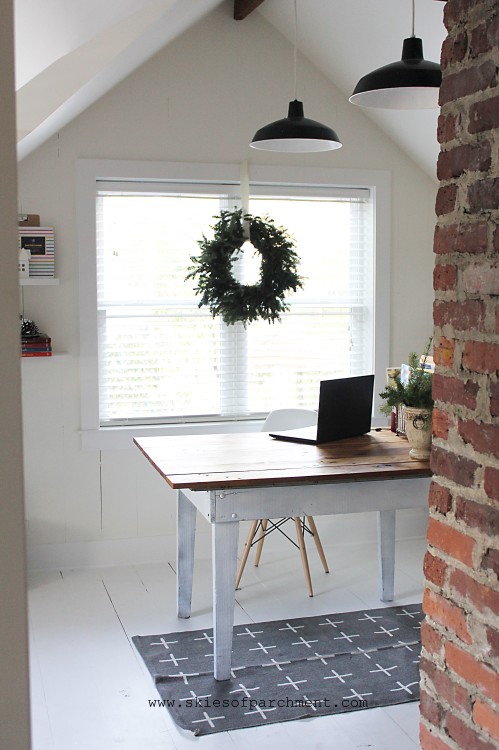 I know!!!!! Can you even believe it's the same space?! I feel like I'm walking into a dream every time I come up here.
Our basic game plan for this room was to add a dormer window toward the front of the house, a big double window out the side, add electric and A/C, add knee-walls and then dry wall on the walls and ceiling, add flooring, add wood to the end wall. It was a LOT OF WORK. My husband did most of the work himself, along with working a full-time job. He put in so much time and hard work! And the way he transforms a place is simply amazing. His German work-horse roots come out in full force during something like this. :) I am simply in amazement of his vision and then the way he reaches his goal. There's a reason he is wanted in the construction business!
The ceiling is high, about 13 feet at the peak. And this room is sized about 10 X 12, so we weren't looking at a huge area, but because we only have two bedrooms on the lower level of the house, having this additional space was going to be wonderful! This room could be a bedroom, but we are using it as an office studio for now.
Ben and I share this office space. It's simple, it's white, it's clean. I LOVE IT! Long-term our set-up probably wouldn't be ideal, but for now we have a table for a desk, some filing cabinets hidden to the side, and a closet which holds any extras for us.
There were two brick fireplaces going up through the attic, due to two double fireplaces (that equals four) in the four front rooms of the house. I was so thankful we were able to place the rooms so we could save one of the chimneys going through the roof. I love the warmth it brings to this attic space, and gives it such a studio feel.
He also MADE (insert a million heart eyes) this sliding barn door, or actually three of them, for the upstairs. The closet uses one of them.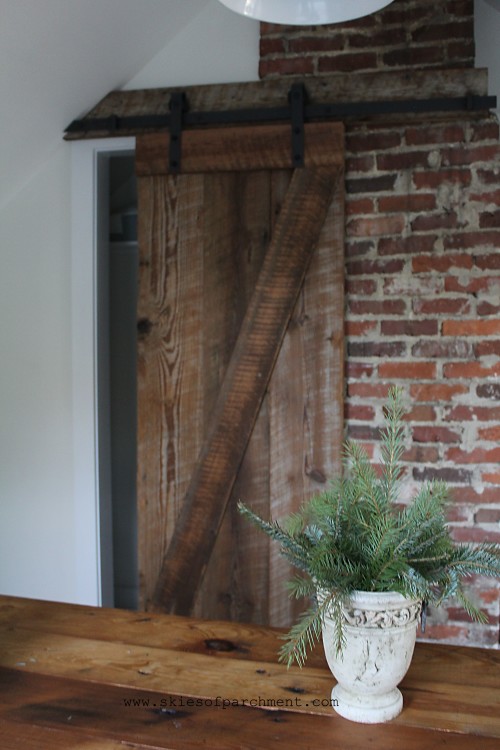 This table I found for super cheap at a thrift store, and my husband thought it was so ugly and couldn't believe I would pay money for it. So he added the reclaimed lumber to the top and it turned into a gorgeous piece!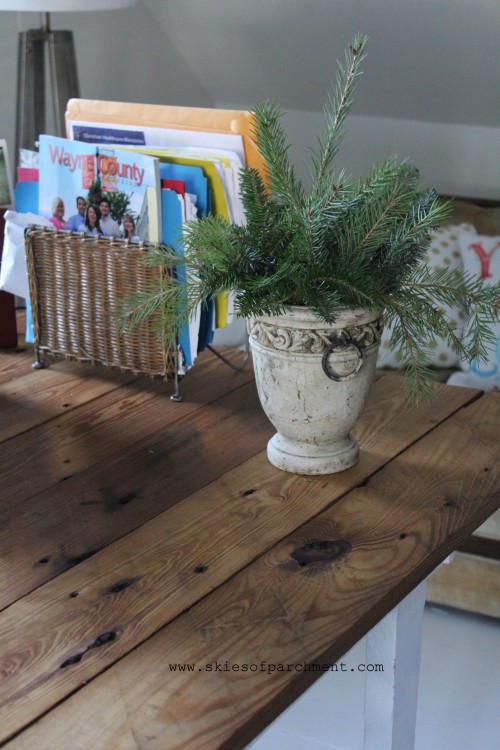 The sofa (which I found for $35 dollars on craigslist (and now I a.d.o.r.e. craigslist all the more) adds the perfect touch of warmth and texture to the room.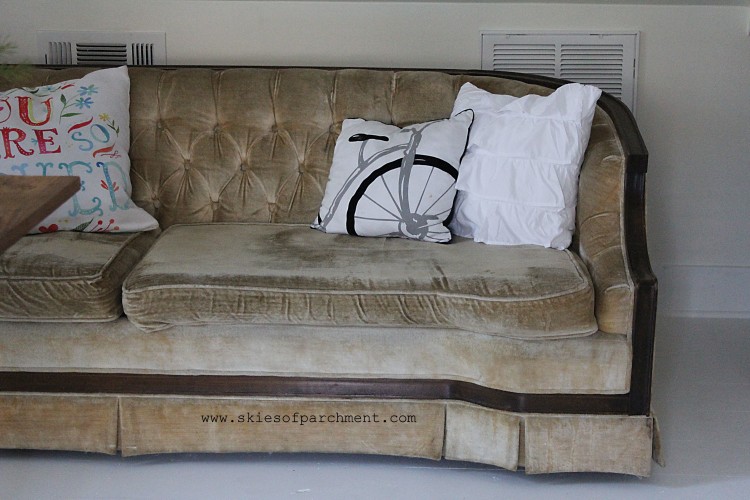 The décor is minimal, but this little area is a favorite of mine: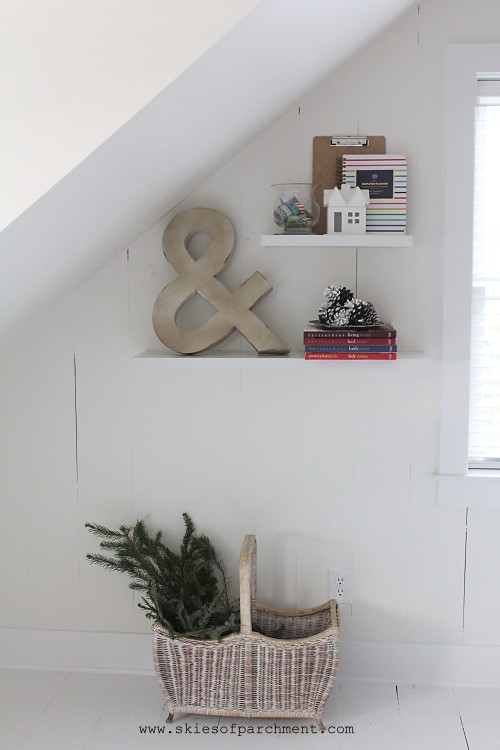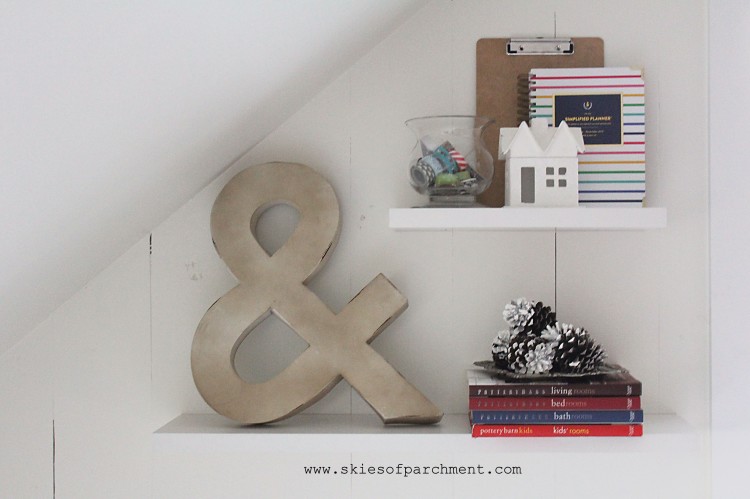 I'm learning, when having a palate of white, that texture is essential. So while most of the décor is white, here are a few ways I've added texture:
– the Eiffel chairs add a modern element [wooden legs, smooth chair]
-the table [white painted legs, top made of reclaimed lumber – thank you, dear Husband!]
– the shelves [floating style, shiny finish]
– wood boards on the end wall, and painted
– wooden floor, also painted but slightly different color than the walls
– metal pendant lights, painted black for contrast
-metal distressed ampersand
Each thing is a slightly different material, or color, or texture. And putting it all together with the slight differences but similarities are what give it a clean but warm feel.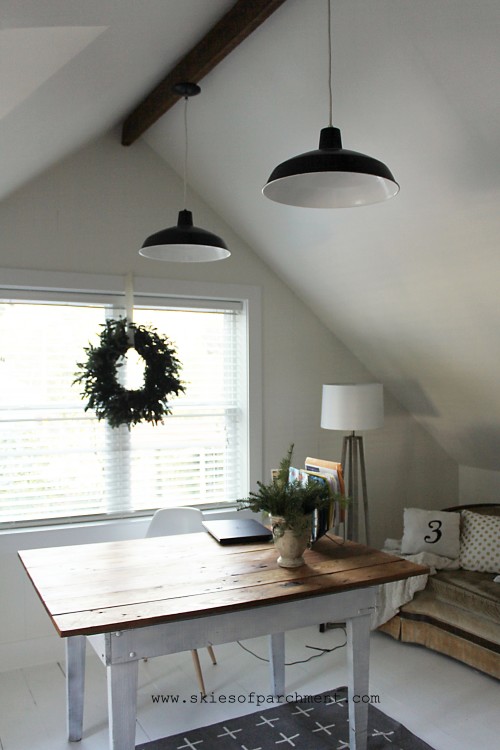 I think the work of restoration is so amazing. And such a picture of the redemption of Christ in the life of a person! He takes what we think is ugly, useless, beyond hope, and turns it into a masterpiece. If we as humans can do physical repair, how much more can the Great Restorer work on a deep soul level! I love that picture.
Be blessed because of the work of the Restorer in your life today!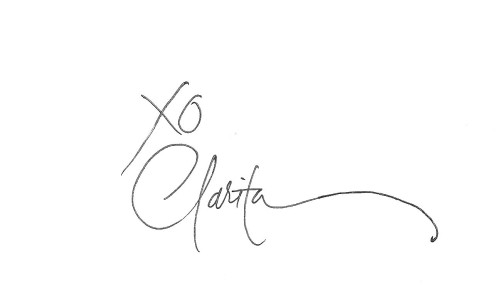 Sources:
Wall and Ceiling Color: Dove White, Sherwin Williams, eggshell finish
Floor: White Exterior Grade Paint
Eiffel Chairs: Amazon, similar here
Floor Lamp: Target, found here (and they are 10% off now!)
Floating Shelves: Lowe's, found here
Metal Pendant Lights: we found them free!
Swiss Cross/Plus Sign Rug: Urban Outfitters, here
Table: thrifted, and Ben added the reclaimed lumber to the top