Will someone please tell me, what is it about this autumn that is absolutely intoxicating nearly everyone I know??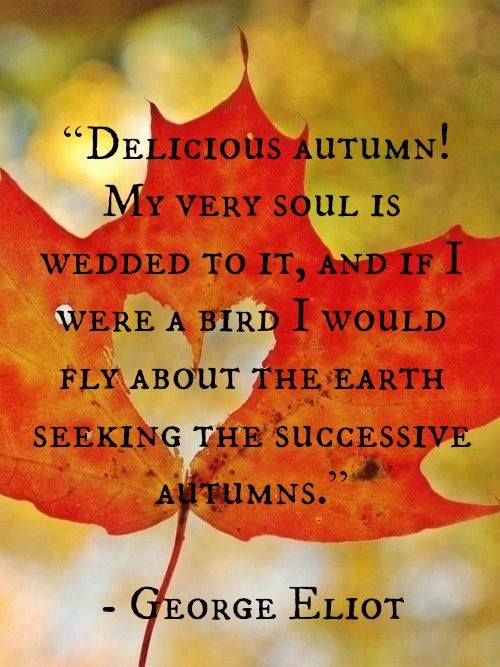 [via pinterest]
I mean, autumn has always been a lovely season. But this year? People everywhere are crushing all over again on Autumn and its beauty.
Autumn is such a gloriously regal time. Sometimes showy and flashy and shockingly beautiful [at least, in the northern areas], and other times it's the weather that is a great reprieve from the high temperatures of summer and we just want to live outdoors [here in the south].
We don't have breathtaking maples or any leaf change, for that matter, and I really do miss that part of living in the north. But there are still pumpkin things to make and bake and eat, and decor that I putter around with and arrange, and we can at least pretend it's cold!
I adore this season, more than ever before.
Our little cottage has been in autumn attire for about a month now, but just put on the final accessories. She'll remain like this until after Thanksgiving, and I don't think I've ever enjoyed seasonal touches like I have this year. It ranks up there real close to Christmas decor, which is saying a lot, folks!
In decorating I am passionate about homemaking – not to be confused with housekeeping. I want to create an atmosphere of warmth, of love, of rest. I want anyone to be able to walk into our home and know that Jesus is Lord here, by the beauty and purity that reflect Him.
So here's a little look into the cottage.
the kitchen
The kitchen gets just a little touch, next to my faaaaavorite sign by Aimee Weaver.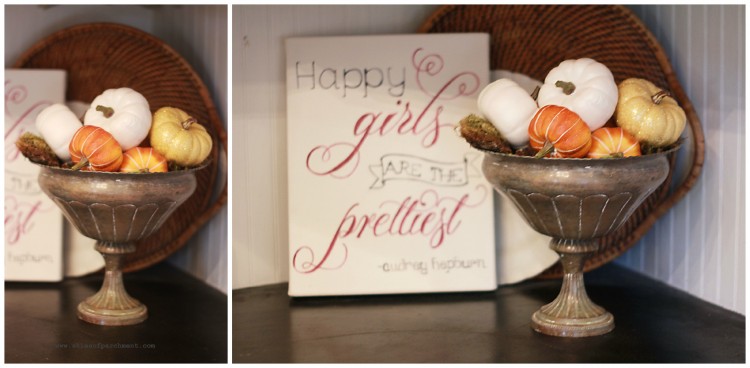 [silver urn: thrifted]
dining room
The dining room gets a simple display as well.
This quote came from Sally Clarkson's blog, I'm quite certain.
I love having this written in my dining room chalkboard, with the giant fork beside it :)
~ reminding me that nourishing my family is more than just with food.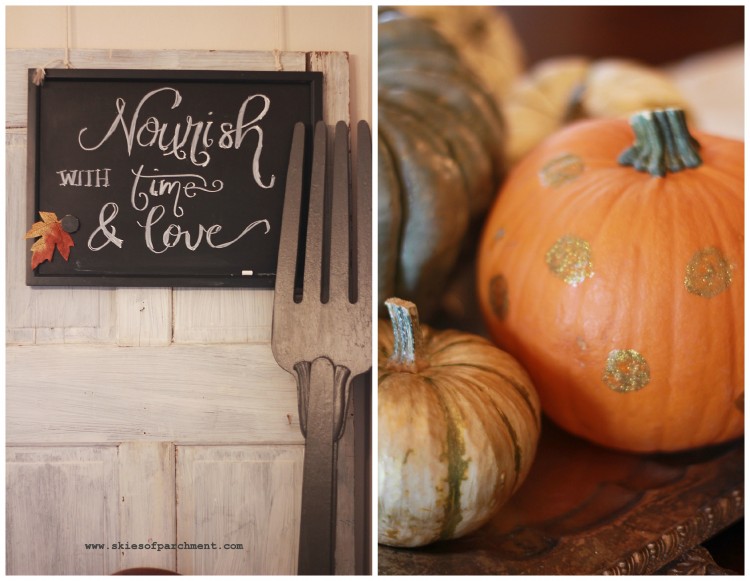 [a little fyi i recently learned: if you dip your chalk in water before writing, the finished product is a brilliant white, not a muted chalky look. i like both looks, but it's nice to know different ways]
For the first time in seven years, I found heirloom pumpkins in my area!
My excitement was so high. :)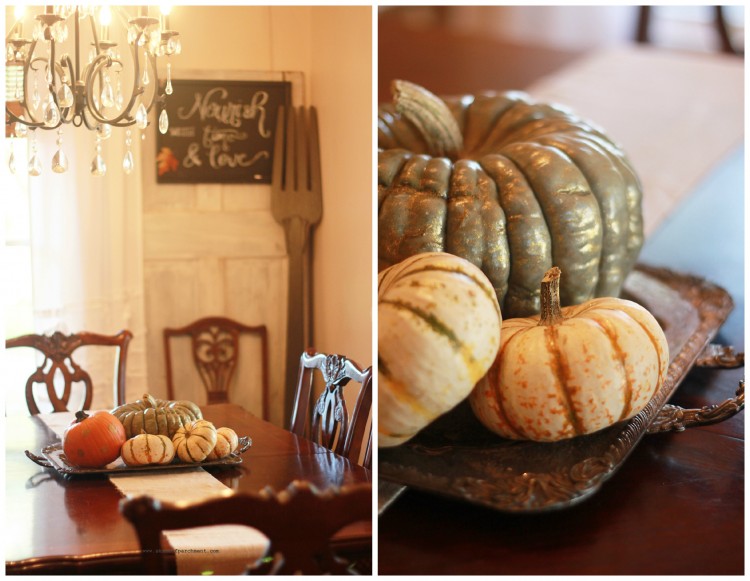 [silver tray: thrifted
giant fork: yard sale
linen runner: my sister's wedding
glittery gold pumpkins: fun little paint]
living room
The living room receives the most seasonal change in any decor of the cottage.
It's a challenge to keep it fresh and new, without just repeating last year's design!
But I do love how a new look on only the mantel can change the entire look of the room.
Also, the living room is very neutral in color, so the mantel can handle a fun pop that isn't throughout the entire room.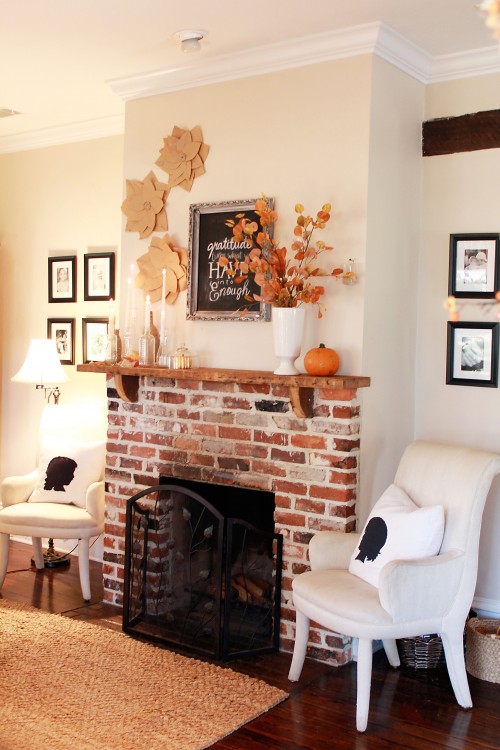 We have very high ceilings, so sometimes it can be hard to do justice to the space.
This year I pulled out the paper flowers from last year – they add texture & create height well.
And I searched throughout the house and found glass candlesticks & little jars with small openings, and twisted taper candles into them. It gives a bit of a primitive look, but I like the collective look of them all together.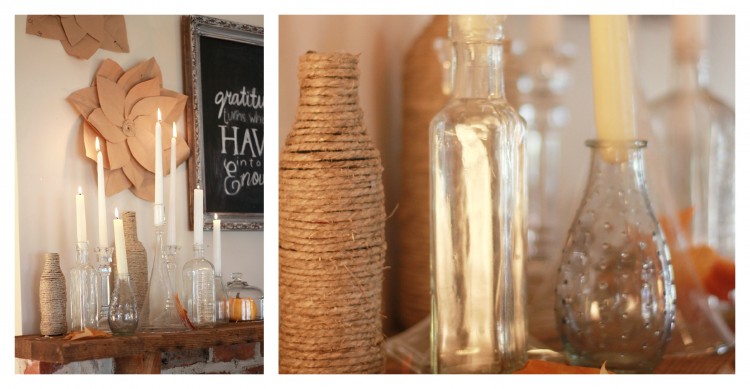 Because of the number of things on the left side, I kept it very simple on the right side.
I'm not normally a fan of fake foliage, but ya know, I was a little bit desperate for autumn leaves!! :) Hobby Lobby had these springs of autumn-looking-somethings on sale, so for $15 I had my leaves. Other than real pumpkins, it was the only purchase I made for decor.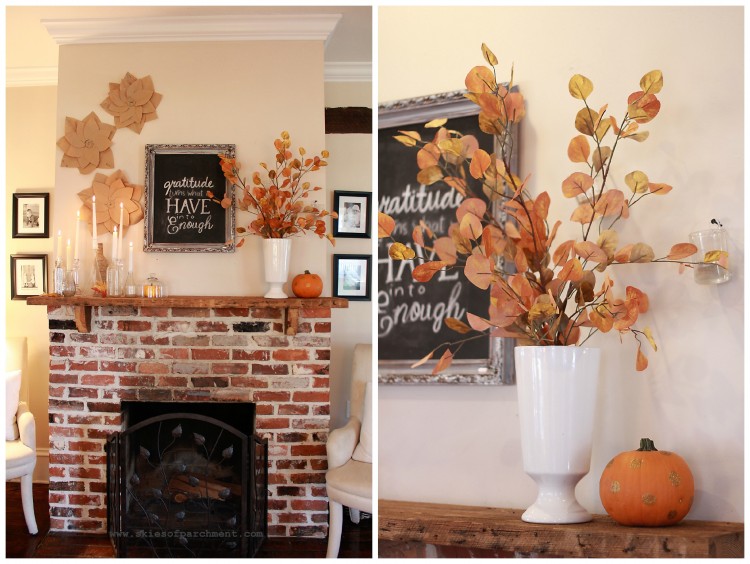 [old frame: thrifted & dry-brushed
chalkboard: canvas, chalkboard painted
tall white vase: clearance at Target
collection of vases & jars: thrifted & gifted
fire place: yes, um, we are hoping for a cold day, and until then, pretending]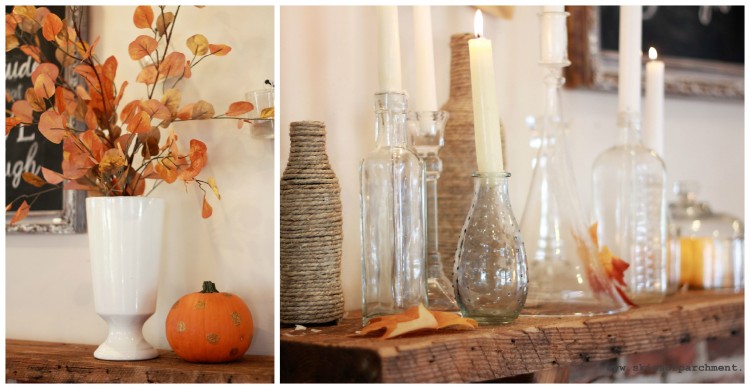 "Gratitude turns what we have into enough"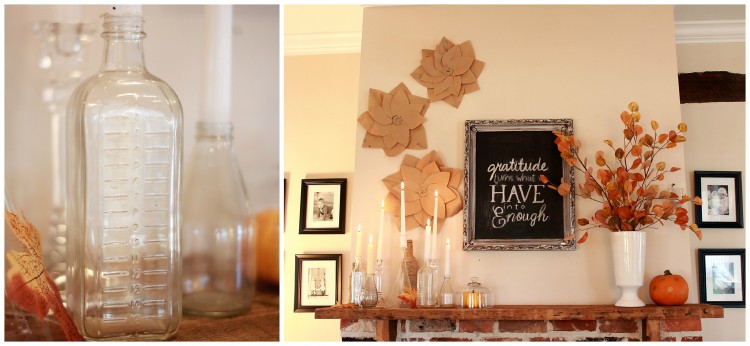 I put a few little pumpkins on the coffee table, which makes my 17-month old son shout
"Ba(ll)!" and he fires away at his big sisters. One day ball-throwing will be off-limits in the house, but for now, he's just too cute.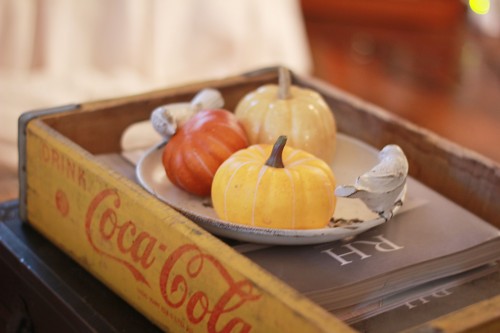 master bedroom
Just a little touch of autumn. A mixture of real and fake spray-painted-white pumpkins.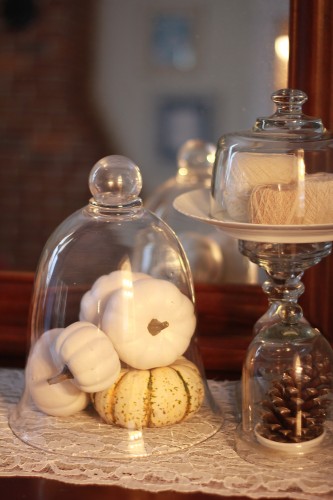 hallway
I'm kind of into candles this fall. And silver trays [this one thrifted also].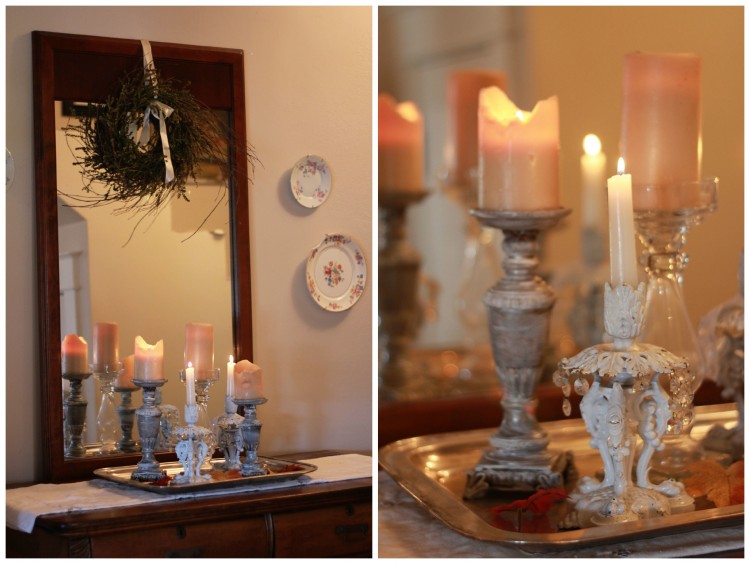 the front porch
These pictures I showed before, but not much has changed since then. :)
The chair was marked "free!" at a yard sale because of a busted seat [which I thought I'd get fixed and never did] and I loved the design and thought I'd paint it white [and never did] and it's sat up in our attic for 3 years.
I very nearly sold it gave it away at our yard sale this fall, but wanted a change for the front porch and it worked perfectly.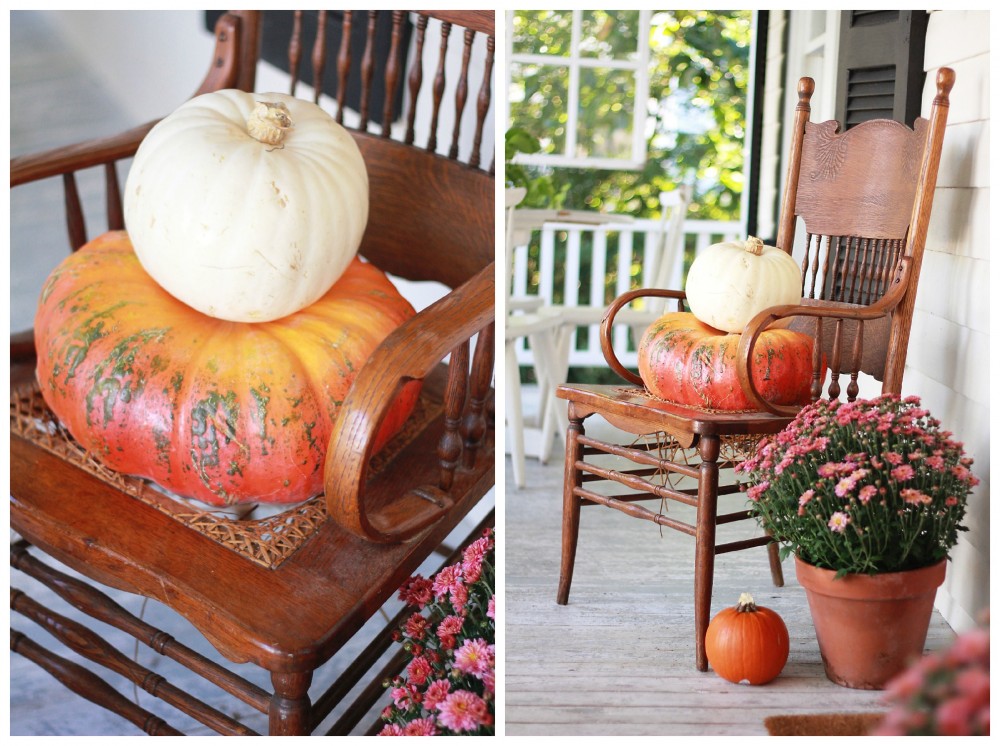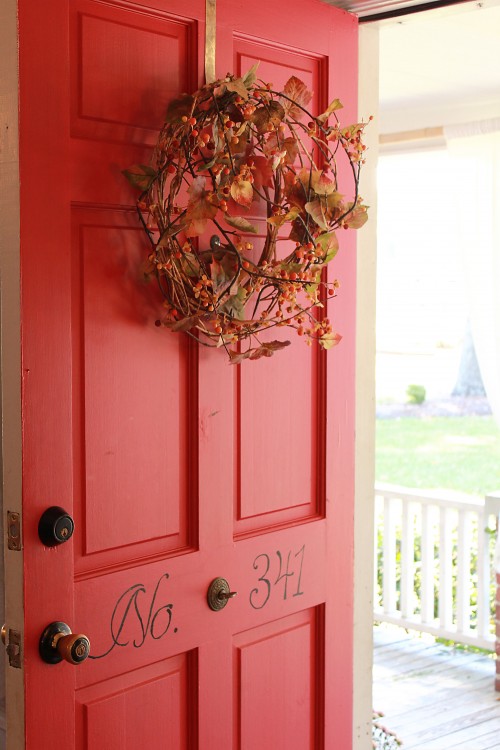 I love Anne's quote from L.M. Montgomery, and I'm just a little sad to see it end.
Thanks for visiting, and enjoy the last little sip of October!