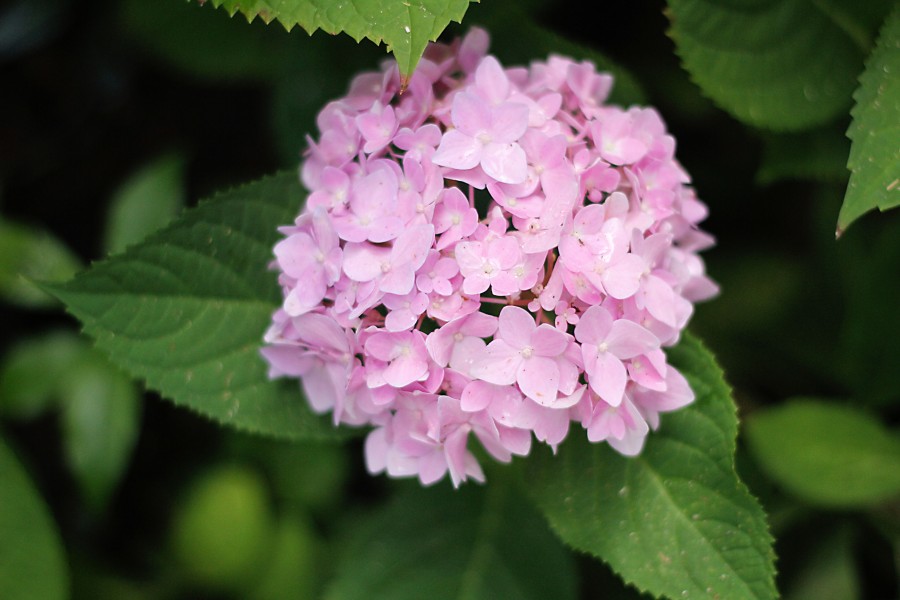 I have dreamt of having my own hydrangea bushes and walking out the door in my pretty little frock and plucking lovely stems from my very own garden.
This summer, it is a reality.
Well, maybe not the "pretty little frock" part, but the "plucking my own stems" part.
When you buy a run-down repossessed property, or if you build you own house, most times there is no landscaping, and it just takes a lot of patience to plant small young plants and wait for years until it grows and blooms!
These I planted these three years ago, from very very tiny plants. I had saved up birthday money or something of the sort, and wanted to buy an assortment of plants for our barren yard.
And, wanting to make that money stretch, I bought small plants.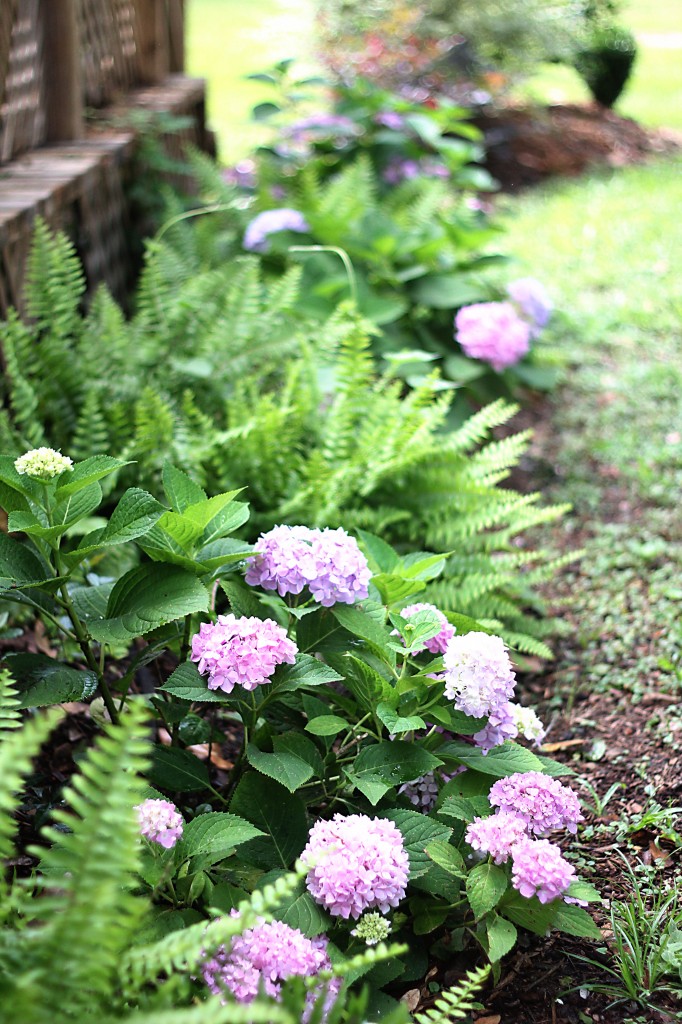 Three years later, lots of fertilizer and watering, adding ferns [that were leftover from my front porch at the end of the year that I cut in two or four parts and planted], and I so love it. It's simple, so simple, but such loveliness. It draws attention to the flowers rather than our falling-down deck. Ha!
And maybe by next year I can learn how to actually determine the colors, rather than being surprised. :)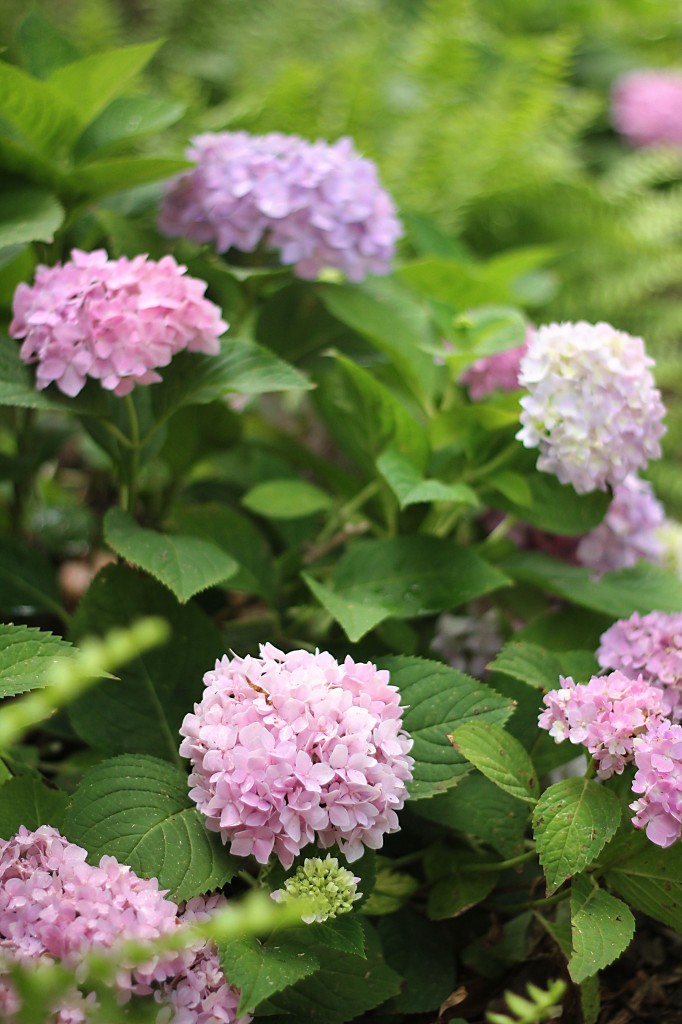 Of course, some must be brought indoors and enjoyed as long as possible…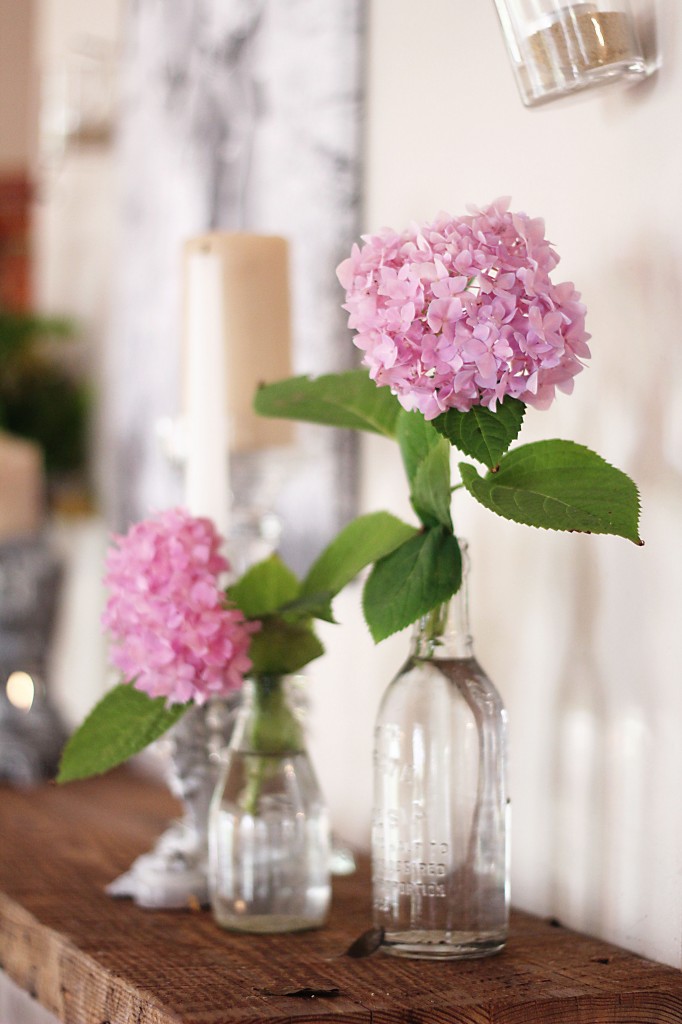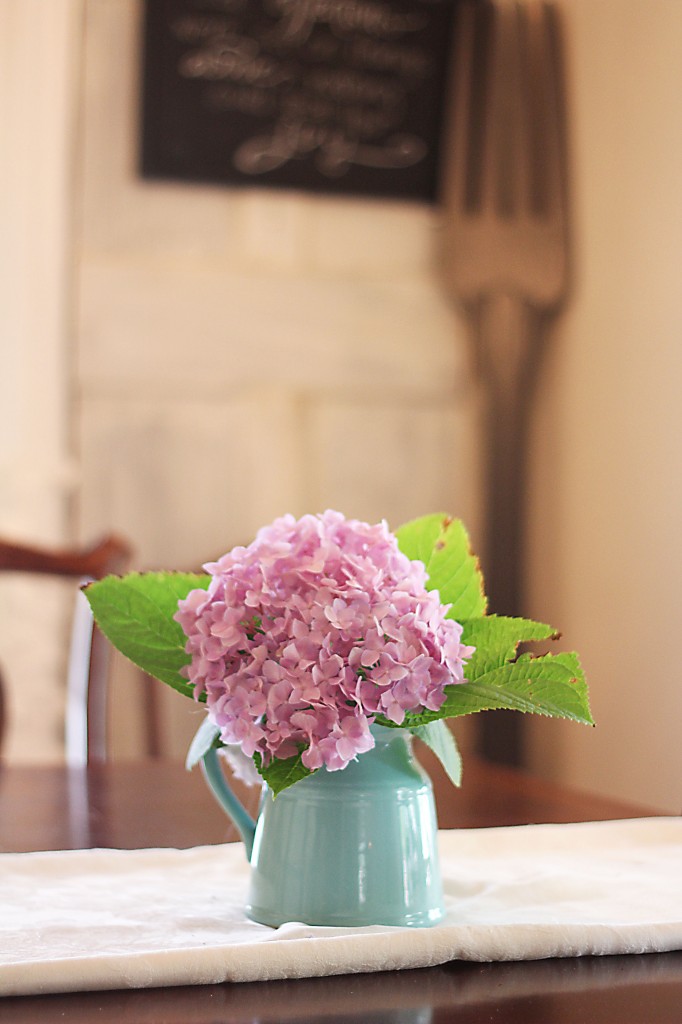 There are some things about life that are so hard for me to grasp.
Beauty and pain, I'm thinking of now.
Sometimes I almost feel guilty for enjoying life, enjoying beauty, when there are so many painful things in this world.
Why was I not born in a slum in India?
Why do I know love and comfort rather than misery and rejection?
Why was I given a family, a home, when others are orphans and homeless people?
WHY?
And I'm over here exclaiming about hydrangeas.
I guess what I come back to is this:
I do not worship the beauty I see; I worship the God who created the beauty.
Sometimes it feels my heart is torn by the pain I see others experiencing, here and far away.
I want to do something for those who cannot help themselves.
I don't want to pretend the world is fine and everyone is going to Heaven.
And yet, regardless of the terrible things in the world,
not minimizing them, but even in the middle of them,
God is worthy of worship.
He is worthy of me noticing His creation, the beautiful things He's made,
those things that are a glimpse of how He created life and the world to be,
and for me to stop in the middle of the busyness of life and be delighted with Him.
I don't ever want to stop noticing.
Whether it's a pink hydrangea outside my back door.
Or a picture that turned out better than I expected.
Or that teasing twinkle in my baby's eye.
That big strong tender man that is my husband.
Those little-girl giggles coming from the bedroom.
That beautiful morning light, picture-perfect.
That little note from a friend that was the encouragement I needed.
The voice message from a sister.
Little raindrops on a leaf.
Those little simple delights.
It's endless, really.
In this world I never will be able to reconcile the extreme beauty and pain,
but I do want to live with eyes to see Him, to see His beauty,
and mostly, with a heart to worship.
xo