Two nights of very little sleep, and what little I did have being constantly interrupted, make me feel a bit fragile emotionally.
There are times I feel so tunnel-visioned. Like, there is the government shut-down happening in America, and the tragedies that just happened in Kenya, and endless other big world news. And I do care about those things! But today I'm here all clutching my coffee cup for dear life, collapsed on the sofa because my baby didn't sleep well for two nights and I have a terrible kink in my neck. First world problems for sure.
Hudson is cutting the last three of his eye teeth, and then he has a full mouth of baby teeth. (I know, I know, such a mommy post). But cutting them is painful business, and on top of it he has a mouth and tongue full of viral ulcers. He sleeps fitfully at night, even with Tylenol, and during the day he's permanently attached to my hip.
But I walked out into the living room this morning and laughed.
It's probably lame humor, or maybe it's because laughter comes more easily to the weary.
But I saw Zoe's arrangement of our trunk-turned-coffee-table ~ the coke box cocked all sideways. That's exactly how she (age 6) means to place it, thinking it adds interest "so not everything looks the same."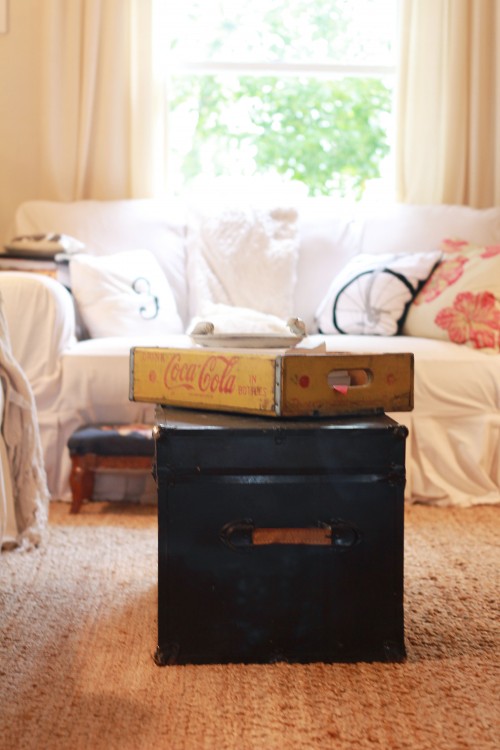 And it drives Olivia (age 4) and me nuts. NUTS. It's really not even a big difference, but we definitely have our opinions about The Arrangement of the Coffee Table. So there is this on-going joke/battle between us, as Olivia (and I) turn it carefully so it is perfectly aligned, and Zoe very deliberately cocks it at 45 degrees.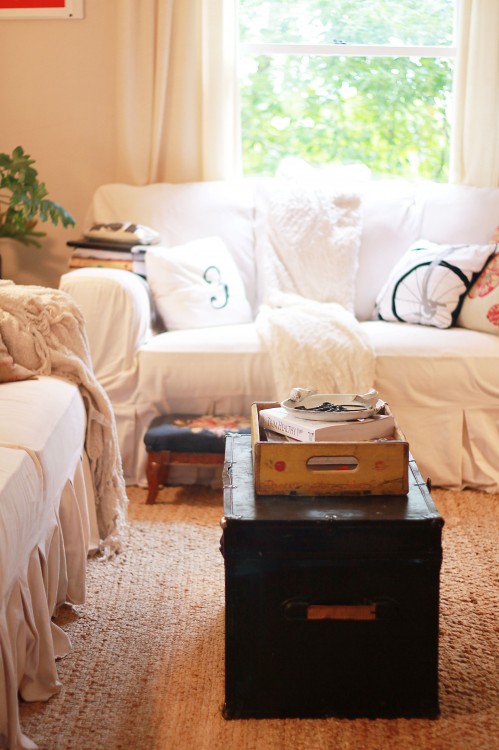 It just really hit my funny bone this morning, to where I felt ridiculous for laughing so hard. Little tears pricked my eyes, I found it that funny.
Crazy, I know. I had a few thoughts of wondering where my intelligence has gone and if my true senses have fled since I gave birth.
And then I felt a fresh renewal for my day. That was a little touch of God in my exhausted morning, ridiculous humor or not. He is not a God of a straight face, of telling us to pull ourselves up by our bootstraps and just trying to make it.
No, He's a God that enters our world, He came to us, Who breathes fresh life and sweet grace for each day. He is creative and varied,  who delights to be seen in our days. Even in little crazy things like cocked coffee table arrangements.
I'm also so so encouraged by this post on Authenticity. Wow.
Today, I'm thankful that God is a God of humor, who smiles and laughs,
annnnnnd, I'm thankful it's FRIDAY!
Happy weekend, lovelies!