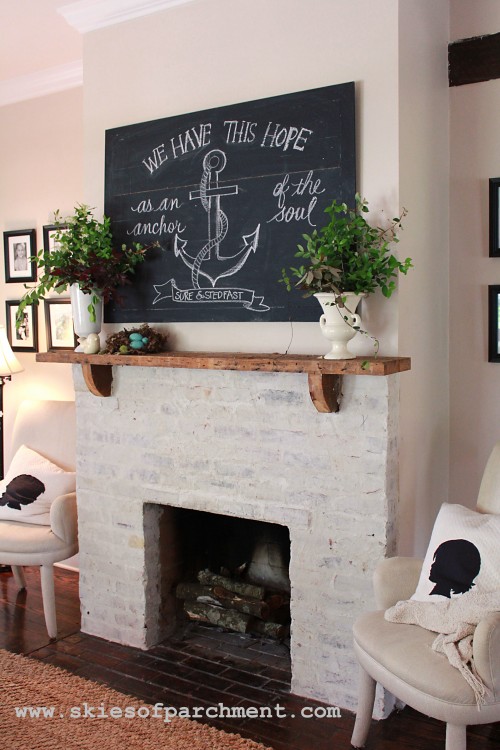 This little blog has been very quiet of late.
The circumstances surrounding these days have been such as need no apology for the quiet, and the thoughts and feelings such as are difficult to translate into words. Pen to paper, or words to computer page, are normally how I can easily express myself. These days, articulation is difficult at best in any form.
It is not a question of my faith, or a shaking of what I believe. It is more a deep feeling for those I love so dearly, that are facing such loss in varied ways… It may be a death, or the losing of a family member in other ways that are equally painful. The details are not mine to tell, but probably all of us know of times in our own lives or in those we love, when we suddenly saw life as the battle is really is: the blissful carefree perspective disappeared, and the reality of the sorrow of life nearly takes your breath away, it's so severe.
Sometimes my heart feels torn in two for those I love, and the how they experience such raw agony. I wish there was some way I could take it away for them, make life happy and carefree again… and I can't.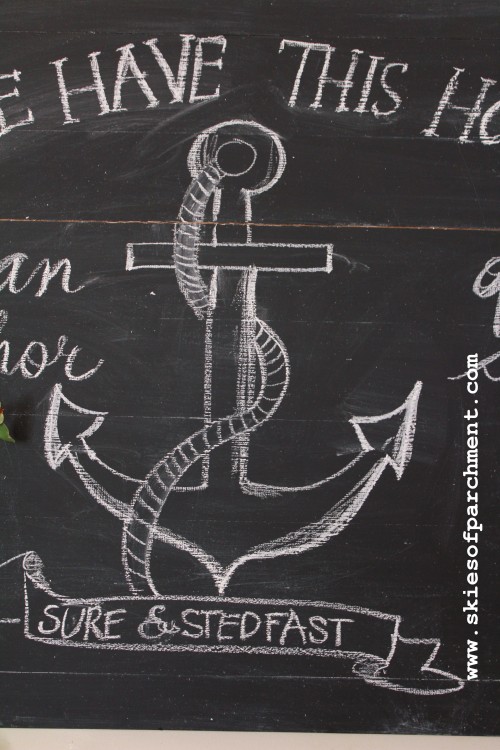 Quote from The Church Initiative, Inc
"Grief will either make you a better person or it will cause you to harden your heart as you resist its lessons. You have the opportunity for unparalleled spiritual growth. This will not happen quickly, but you can grow deeply. By learning that life is a precious gift, you can do more than just exist; you can live on a higher plane.
It was when Isaiah's friend died that he had a deeper experience of God.
"In the year that King Uzziah died, I saw the Lord seated on a throne, high and exalted, and the train of his robe filled the temple. Above him were seraphs, each with six wings: With two wings they covered their faces, with two they covered their feet, and with two they were flying. And they were calling to one another: 'Holy, holy, holy is the Lord Almighty; the whole earth is full of his glory'" (Isaiah 6:1-3). "
[end quote]
…Grief will either make you a better person, or it will cause you to harden your heart…
Yes, I can so see how this is true.
I so much want the first one, to be come a better person, to grow a deeper heart in relationship with God. Grief has a way of revealing what a person is truly made of, and of what truly matters in life – that it's GOD that matters most of all, that life here on earth is so transient, so short, in light of eternity. And it's PEOPLE and relationships that matter…
There are days when I wake up and feel that I could never be exasperated or upset with my kids again – I mean, how could I be, when I've been given three of them as such precious treasures, when some women long for even just one baby of their own?
And then, that very same day, real-life happens.
…Food gets strewn all over the floor at lunch time (and maybe even breakfast).
…Little guy cleans off the chalkboard so sweetly with a wet paper towel, and I suddenly realize that the only water he can reach is the toilet! So into the bathtub he goes, along with his sister who needed a bath anyway.
… I hear water splashing outside, and try to think of when and how I left a faucet on somehow. I look out the door and see the two freshly-bathed kiddos splashing in mud-puddles they've made, jumping and laughing, and muddy from head to toe.
And this all happened, for real, in one day. Disasters? Not at all. Exasperating? You betcha!!
Never becoming exasperated again? Maybe that will start tomorrow. :)
It's in these times ~ in the great heartbreaks of life, of deep loss, of pain to the core of our beings, of relationships that are imperfect and painful, and yes, also in challenges of mothering when I'm brought to near tears – I realize so much how I need my Anchor.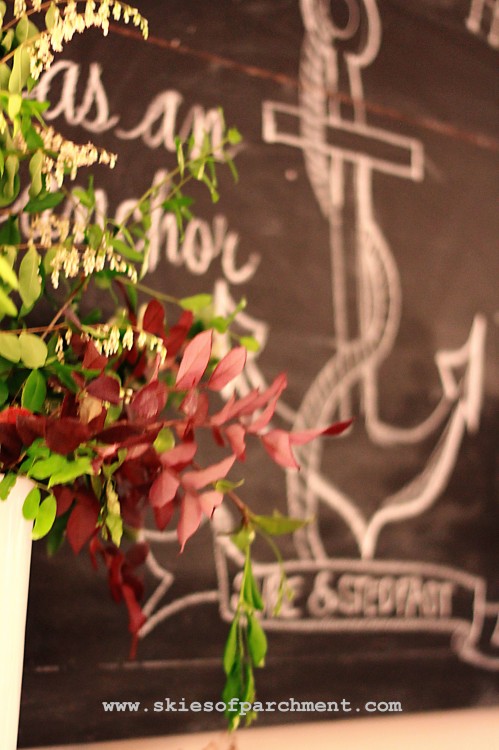 I changed out the chalkboard in the living room recently with the verse that's been on my heart so much the past six weeks, through various heartbreaking things we've lived through and heard, and through the daily responsibility and gift of being mommy to three little people.
"…It is impossible for God to ever prove false or deceive us, so we who have fled to Him for refuge might have mighty indwelling strength and strong encouragement to grasp and hold fast the hope set before us.
"We have this hope, as an anchor of the soul, sure and stedfast…"
[Hebrews 6:18-19, Amplified]

What hope? The hope of Jesus Christ, the truth, and the knowledge that He IS everything I need. He never promised that life wouldn't disappoint, or that circumstances wouldn't be hard. But He did promise that HE would never disappoint us.
I don't profess at all to know the great "why?" behind so many questions… The why of little babies born to a godly father and mother who wanted them, who prayed for them, who would teach them in the ways of God, and then tragically taken. The why of babies born out of sin and lust, put into families that are full of the flesh, that are determined to live their own way no matter what God says, and living in the midst of sin. The why of babies born and growing up, sold into the sex trade (1 million every year). The why of families enduring pain as the result of a father making bad choices, and the innocent are left to suffer and pick up the broken pieces. The why of health challenges, of sickness that is incurable.
Did you know that many atheists have come about not as a mere logical conclusion, but as a result of being angry at God, for all the sin in the world? And so they deliberately turn their backs on Him, refusing to have anything to do with a God who tolerates such pain in His created world.
I don't profess to know the answers to these hard questions. I just know that I cry tears as a result of this sin in the world, of the pain and brokenness. And I am don't understand how God can respect the free will of man, even when it results in such sorrow and disaster. But I know that sin is responsible for all the sadness and agony in the world: this was not God's design.
But can I trust God in the middle of all this? In the wreckage of humanity? In the sorrow of loss?
It comes down to a belief: Either God IS who He says He is, in every situation, or He isn't. He is either faithful and trustworthy at all times, or none of the time. He is either kind and good in all things, or in nothing.
I choose to put ALL my stakes in with the first – He IS trustworthy in everything, He IS good at all times, He IS God.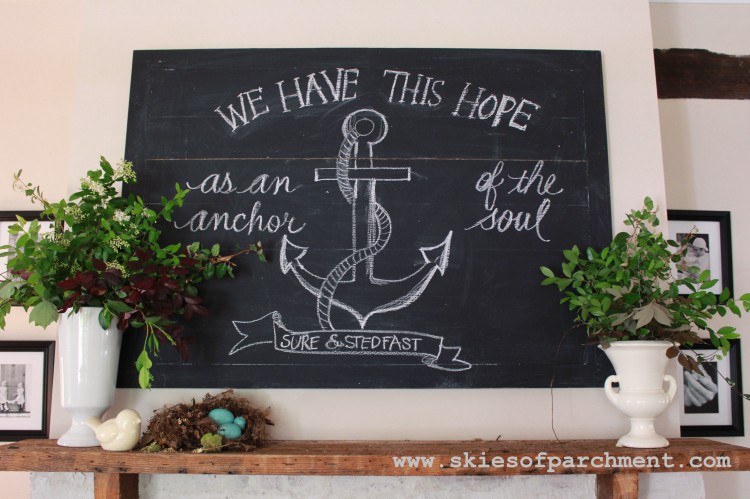 Because He is an Anchor. When life brings storms and everything is torn apart, He never changes. He gives peace, even when it seems unfathomable that there should be peace. He brings comfort in sorrow. and we grieve with hope because we know HE will have the last word, and this life isn't the end of the story.
And if you want a beautiful, powerful song to listen to, go here. Music ministers so deeply…
Happy Monday, my friends! Rejoice in the Anchor of our souls!
And thank you, truly truly thank you for the great outpouring of love and support we've felt from so many people – through words on the previous blog post, messages, texts, but also cards and love and even food brought to us and to my family. The family of Christ is just so precious. We could never repay you. ♥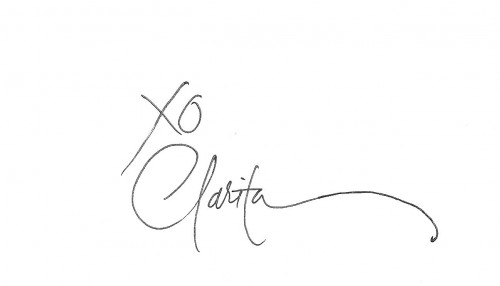 other posts you may enjoy...