So I did something different during my pregnancy with baby Jack – I didn't weigh myself at all.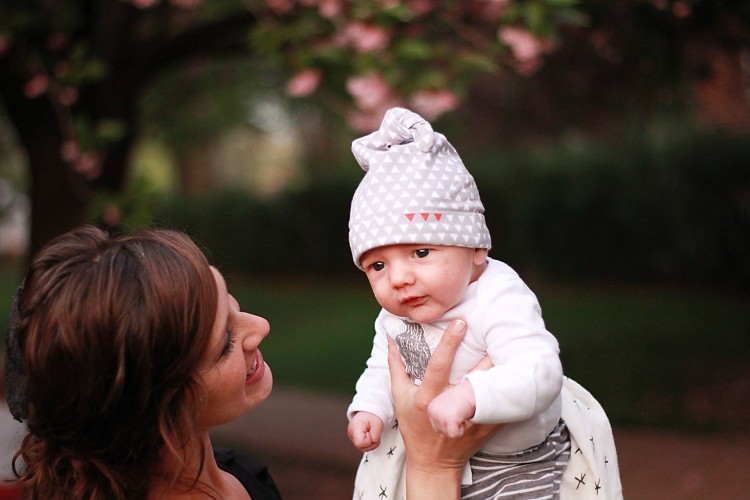 Normally I watch my weight gain pretty closely because I try to keep it at a certain amount, but this time I decided I wanted to focus on HEALTHY, not a particular weight. I wanted to really focus on eating well; satisfying my hunger with fresh vegetables and some fruits and healthy fats, lots of protein, a
nd limiting my carbs and sugars. I'll readily admit that I'm not a food purist at all – I ate healthily much of the time, but I did cheat too. I didn't follow a "plan" but that was my basic rule of thumb. Oh, and I did take my favorite supplements every day too. ;)
I've talked about my health journey a bit before, and in case you're wondering, it's still continuing with results I am so thankful for! I could write an entire post on my pregnancy itself and what a world of difference it was this time around (4th pregnancy being the best ever – whaaaaat? But it's true!)!

And my take at the end of the 9+ month experiment – I loved it! It felt very freeing to not be watching numbers and making food choices based on that. The only times that I knew anything about weight was when I've have my checkups, and my nurse would weigh me and I'd get a little sneak peak when she wrote the amount down on my chart. :) As best I can figure (because I don't know my exact pre-pregnancy weight either), I gained about the exact amount as I did when I was closely watching my weight.

It was my 4th pregnancy, and it was the very best ever. I could not believe how good I felt the whole way through! I felt like I paid attention to what my body was needing to nourish a little life within me – which made me in awe of God all over again, because it's He who created our bodies so intricately, and with such amazing intuition.
It was freeing to be able to make good food choices, and be able to exercise much of the way throughout my pregnancy (running until 30 weeks, and then a bit of walking and workout DVD's after that).
I didn't have a day of morning sickness (thank you, blood sugar balancing supplement!!), I had AMAZING energy (like maybe 5 naps my entire pregnancy – and we moved 800 miles, remodeled a house, homeschooled two kids…..), didn't have any of the "normal pregnancy bowel issues", and I absolutely LOVED being pregnant (something I could not say before; being pregnant was a gift before, but the *process* of pregnancy was difficult for me) and felt great until my delivery date. My midwife just laughed when I walked into her office at 9 days overdue, because I was wearing heels and lipstick, and felt awesome. :)

My conclusion on the matter is – HEALTH MATTERS. Giving my body health before pregnancy through healthy eating, exercise, and natural supplements, gave my body the things it needed for a wonderful, healthy life to develop.
And my post-partum recovery? I feel so well, and my recovery has been the best yet too. Oh, and another favorite part? Getting back into size 4 pre-pregnancy clothes just two weeks after delivery. Not bad for the 4th pregnancy, me thinks (I am super pumped about that one – ha ha!). I'll be the first to say that weight isn't everything – health is by FAR more important. But then health and weight are both in beautiful balance? Well, it's a wonderful thing.

So today I'm so very thankful for good health, amazing supplements, and great genes (thanks, Mom & Grammy)! :)