Welcome to our Little City House, as we call this home. :)
It's been a year and a half since we moved from the Small Town Deep South to Big Northern City, so it's been quite the change. Besides culture, changing churches and communities and moving almost a thousand miles away, another change was our house. Our little Cottage was a hard thing to leave behind, but it was just a house, and a home is really where my family is rather than what a particular house is like.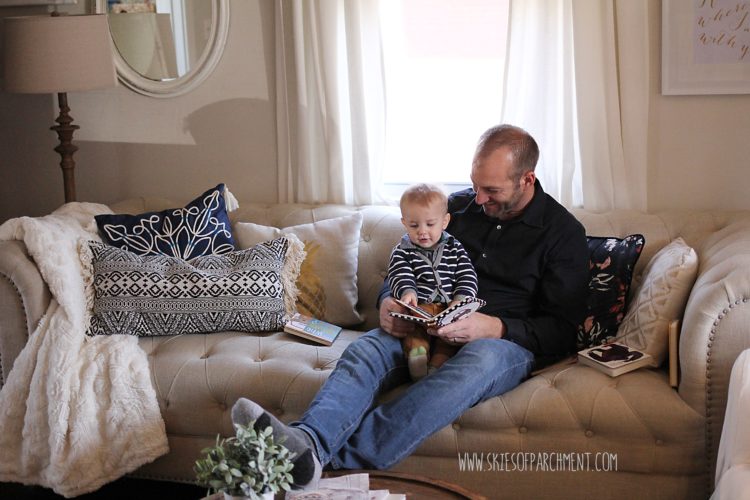 But first, let me just dispel a myth that people may think about bloggers:
Myth: Bloggers think they have the perfect house; that's why they post about it and take pictures and put them on Instagram and blog about them.
Truth: Some bloggers may think they have a perfect house, but most live in a less-than-perfect place. The struggle to compare is real, wondering what we have to offer compared to someone else, but the reason I share is because, I'm learning. Contentment is a thing I'm constantly learning, maybe just like you. But I'm also learning joy, and how if we wait until things are perfect to share our lives, well, then we'll never share. And if we try to be like someone else, we'll never be the person God made US to be, and we'll never share the gift of who WE are to the world around us. As a friend recently said to me, "The world is striking, but I know it's more about having eyes to see it than anything else." So so true.
So I share because of the journey, because we're all on it, and because I'm cheering for you – whether you're in a house you love, or wish you'd be someplace else, or have other challenging circumstances in life: I'm cheering for you. It takes a village, you all. We're not meant to be alone. A blog is a very very small part of what a village is like because it should never replace real-life community, but if you're here, then our villages interact and intersect, and I wish you all the best! Let's have eyes to see the beauty that is around us.
So, after all that, welcome to our little city house! :)
I say "little" because when you step in the front door, you're exactly 12 steps from the back door. It's really not that big: downstairs are two rooms: Living Room and Kitchen/Dining Room. It's skinny, tall (three stories high) and narrow. But it's home! When we first moved in, I was thinking, "Six months. I can't live in a place this small more than six months!!" It's already been a year and a half, and although I don't see this as a fit for us forever, I've found myself thinking recently, "You know, I actually kinda like this little place." ;)
So now for the little tour… The living room is the front room, and through it is the kitchen. The stairs to the 2nd and 3rd floors go off the living room also. It's a busy room, and basically a thoroughfare to everywhere else in the house. :)
You step in the front door, turn to the right, and here you are: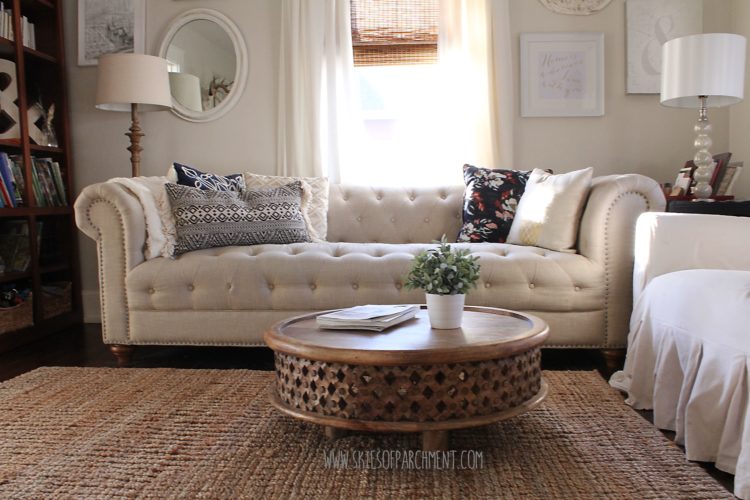 The function of the room is simple: it's where we hang out, it's where we sit with our friends when they come over, it's where family life happens before school, after school, and on evenings and weekends. We needed a place that is very functional, practical, but because I like pretty things, I also wanted it to be beautiful. Another thing that was important was that it wasn't a cluttered room. I like cozy and hygge (favorite word of the year), but because our house is small, it feels overwhelming if the rooms are too busy.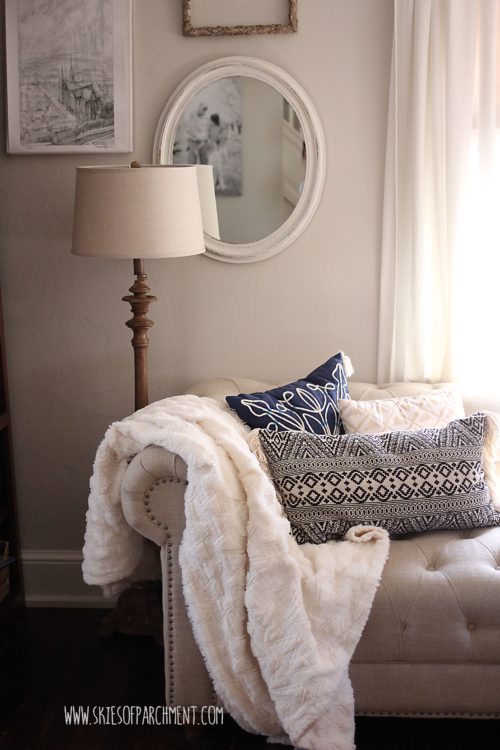 So keeping it neutral felt like a good choice. We painted the walls, sanded down the floor and restained them, painted the trim white, and painted the front door black inside and out.
Navy and Gold are new color crushes, so I found pillows at various places (Goodwill & Target mostly in those colors, and added some toss blankets to cozy it up. Pillows are such a fun way to change up a look – and I have some florals that I can't wait to put out for spring and summer!
Our living room is just that: a living room, not a formal place at all. I'm one that likes to sit on a couch and pull up my feet, and then have a blanket to cozy up with, especially on chilly mornings as I sit with my coffee. I'm a mix of wanting things clean but also wanting the cozy factor – which is basically what Hygge is. (Such a fun thing to research, if you haven't already known about it. The Danish people are inspiring.).
Oh, and let me tell you a story about our couch!!! The gorgeous tufted one with nailhead trim? Yes, that's the one. :)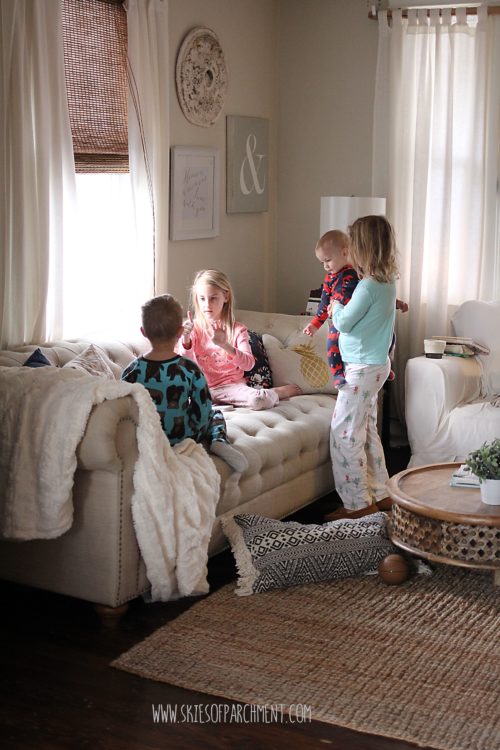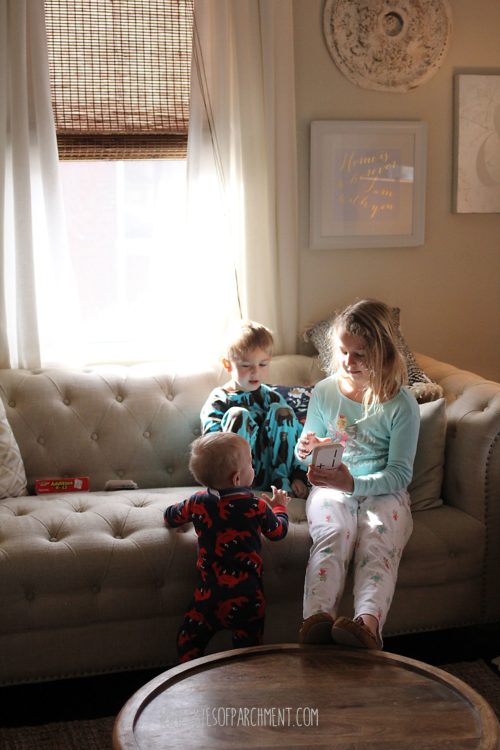 Soooooo, we purchased a sofa and loveseat when we first got married, and it served us well for almost 11 years. We used them hard, the kids used them hard, and we had one certain spot we'd sit on the sofa: the left side by the armrest. Every. Single. Time. It was as if there wasn't even more room on the couch, because we'd always sit there if we could. Finally, it was getting to the point where I would have a back ache if I spent more than 15 minutes on the couch. Granted, it might have had something to do with the fact that I was pregnant with my 4th baby, but still…. ;) All the more reason for a couch with great back support, right?
I'm an avid Craigslist fan, so I searched from time to time for a "tufted sofa with nailhead trim" but something to match that rarely came up, and if it did, it was always so expensive. As in, a thousand dollars more than I wanted to pay.
But one night, late, I did a quick search and saw something pop up. I looked at it, and it had only been posted 15 minutes before. I sent her a quick message, telling her I was interested, and thought to myself I'll talk to my husband in the morning and see what he says. ;) (note to other wives: this only works when you've already been having conversations about these sorts of things ;)) 
Next morning, Ben said it looked like a great deal, and if we sell our current couch (because it really was in decent condition, I just really wanted a new couch ;)), then it will come out almost the same in the end. So, long-suffering husband that he is, drove me the hour and a half to pick up the sofa, just days before Jack was born. And there it was brand new in the packaging: the person who had purchased it hadn't measured her space, and so when it got there, it didn't fit. So instead of returning it, she sold it for $800 less than she bought it for (I know this because I saw it for sale on Overstock ;)).
So there's my couch story. You know how there are certain things that happen that you just KNOW God was caring about you, even if it was something almost silly? This was one of them. God cares about tufted, nail-head trim couches, because He cares about me.  I'm super wowed.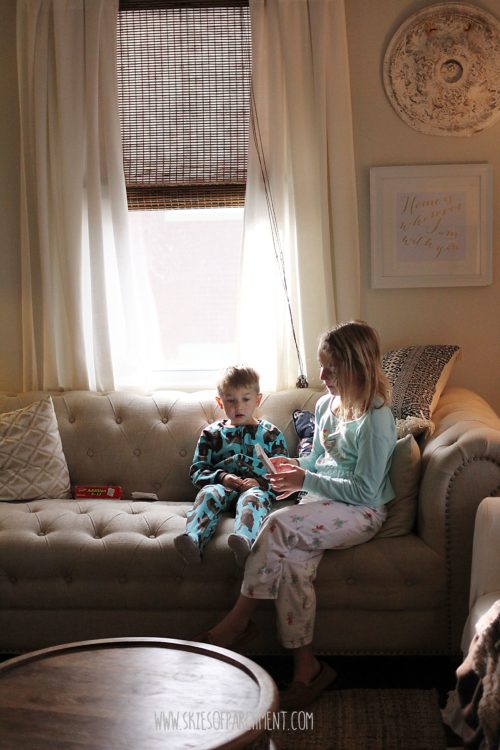 Both of the girls take piano lessons, so making room for a piano was important. We are re-homing our baby grand piano (so sad), but knew we needed something that was space efficient for our home.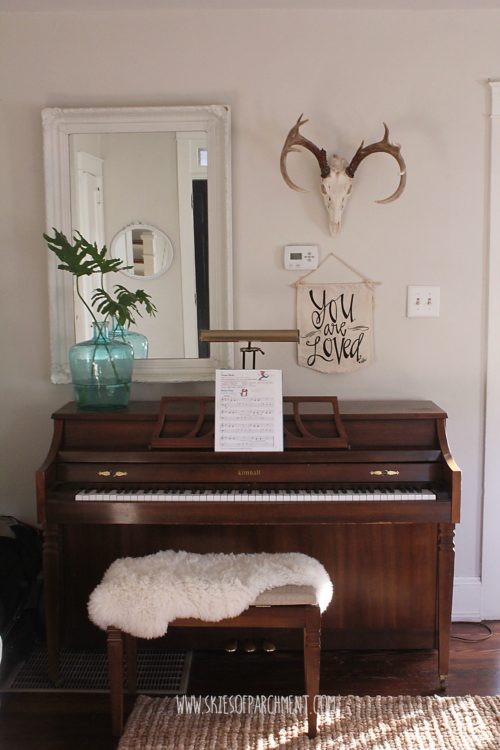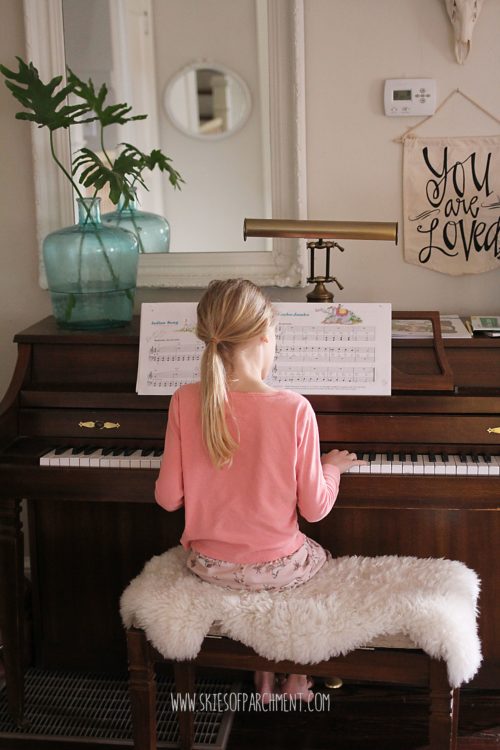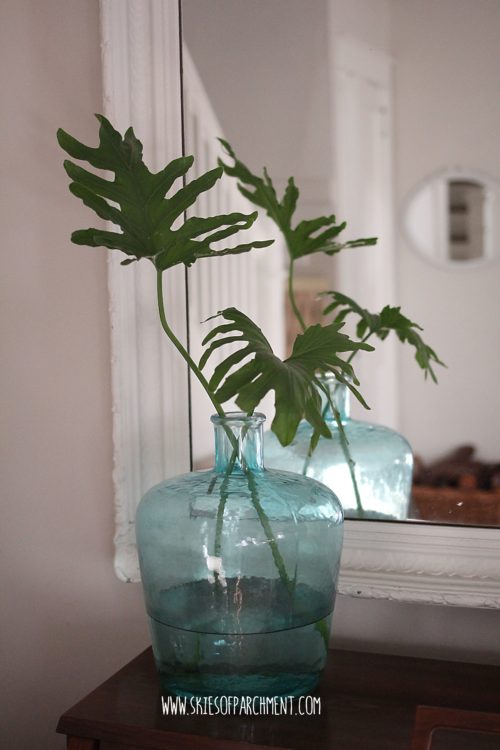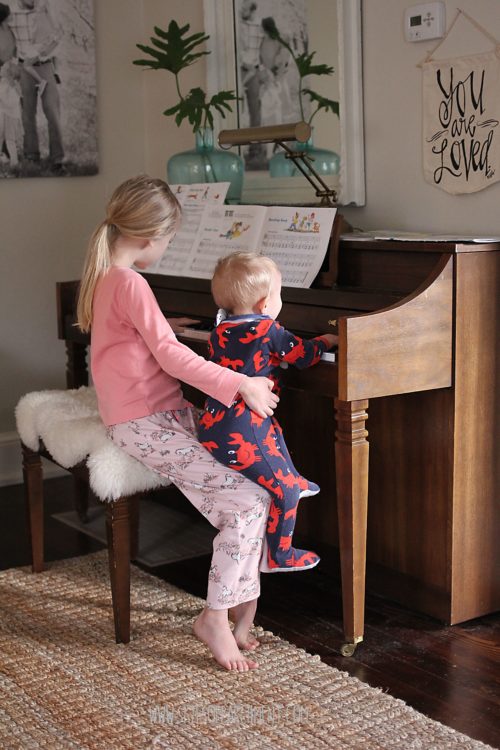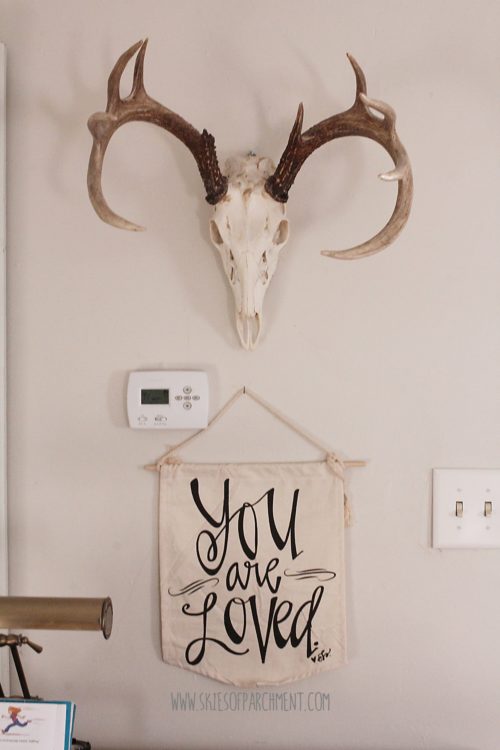 My husband was super honored his European mount deer head made the cut for decor.
Also, our kids are never the nosy neighbors in the block.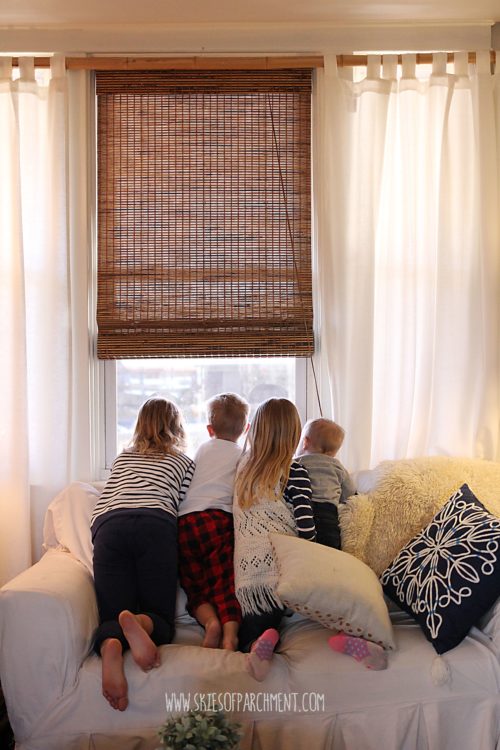 And just a couple of details…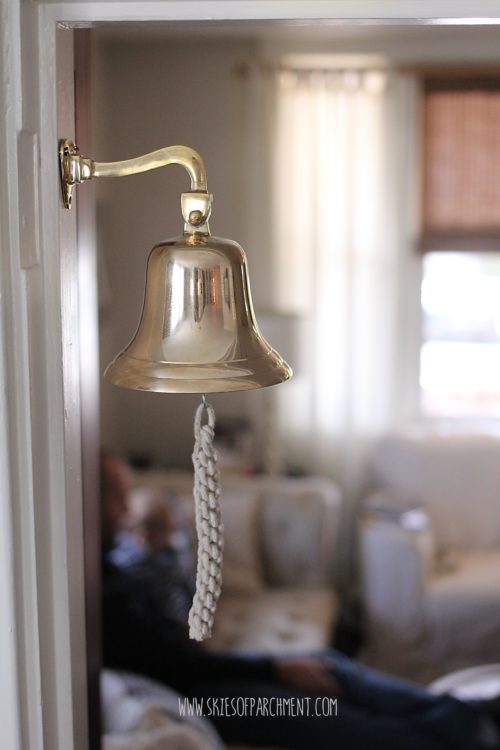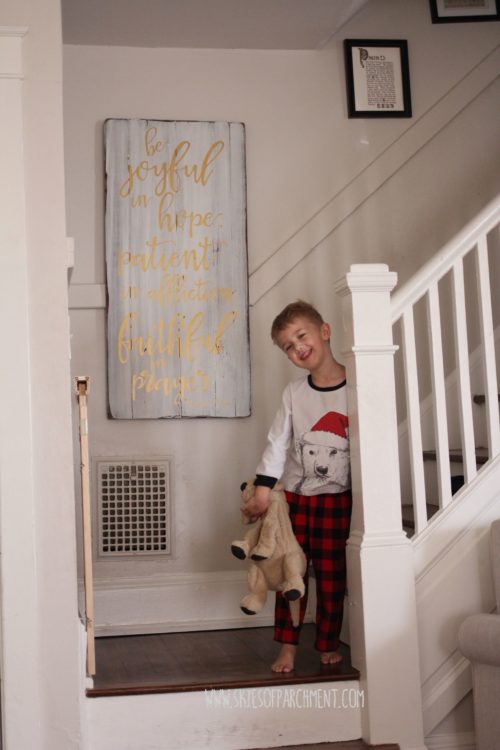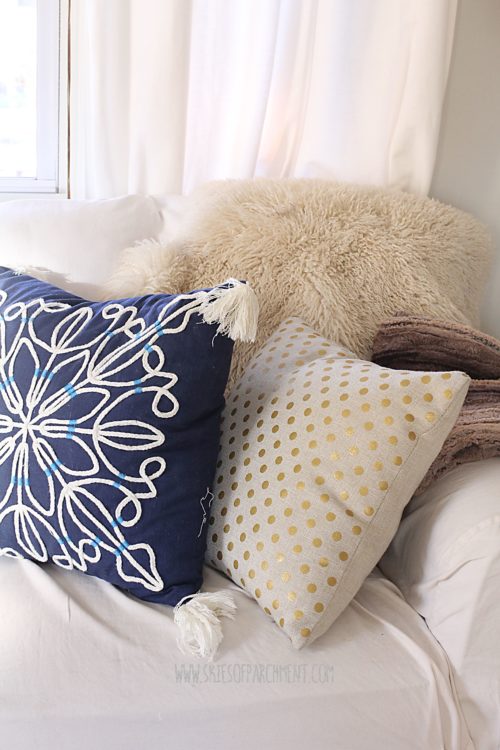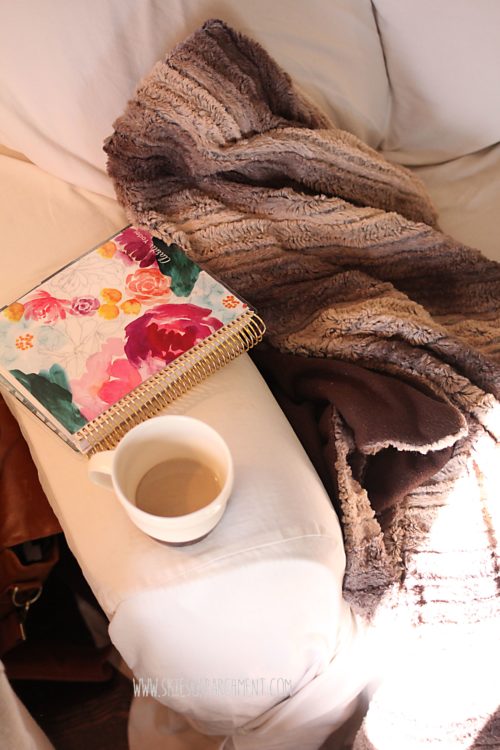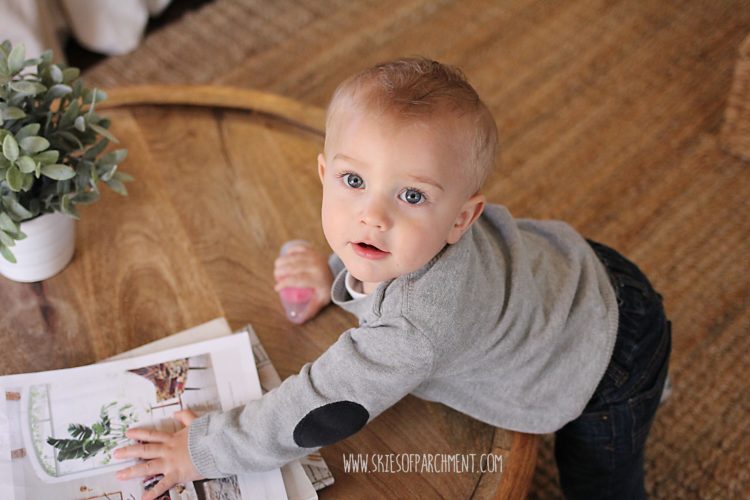 // Home is wherever I am with you –  my motto when we moved. Home was family, not just a house //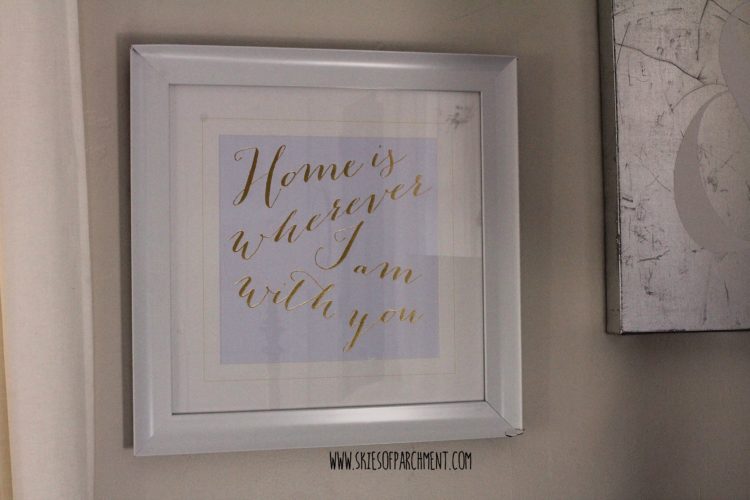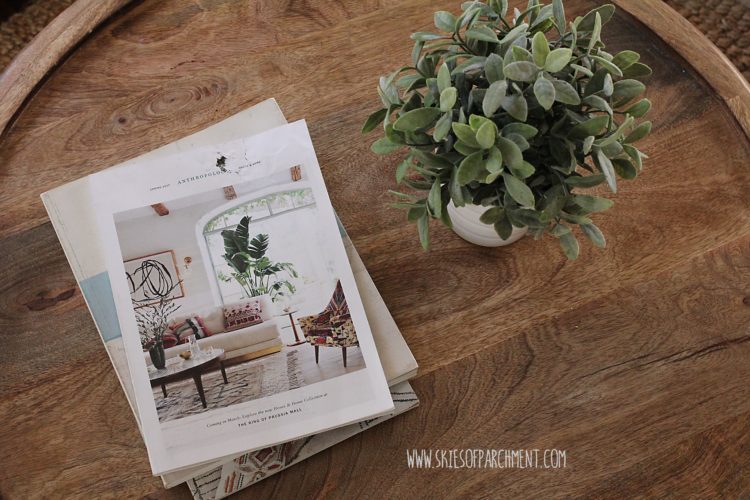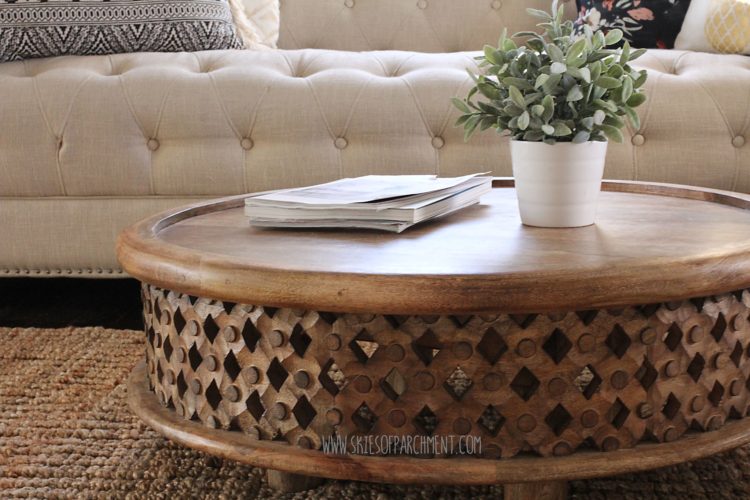 And let's talk practical for a second, since small spaces can be challenging.
Right inside the front door we have a large basket, where everyone takes off their shoes when they come inside. The basket is a collection spot, and it gets emptied by the kids regularly and the shoes taken to the proper rooms.
Also, just inside the door is a very small closet, the only closet downstairs. We use this for winter coats (changed out to lighter wear in the warmer months), & vacuum cleaner. This winter I actually kept a lidded laundry basket inside the closet and it's where we kept all our gloves, scarves, and winter hats & beanies. It was a great solution to the layers that need to be gotten out all winter.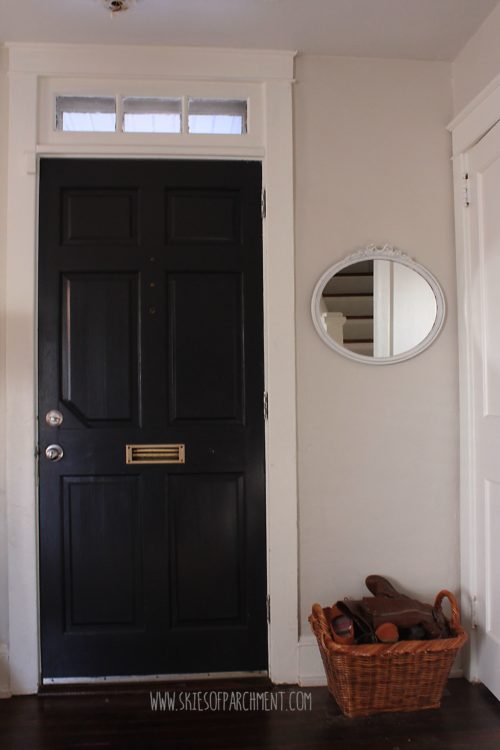 We have one bookshelf in the living room too, which holds books, Bibles, kids' books, and two small baskets of toys for the baby and the 4-year old.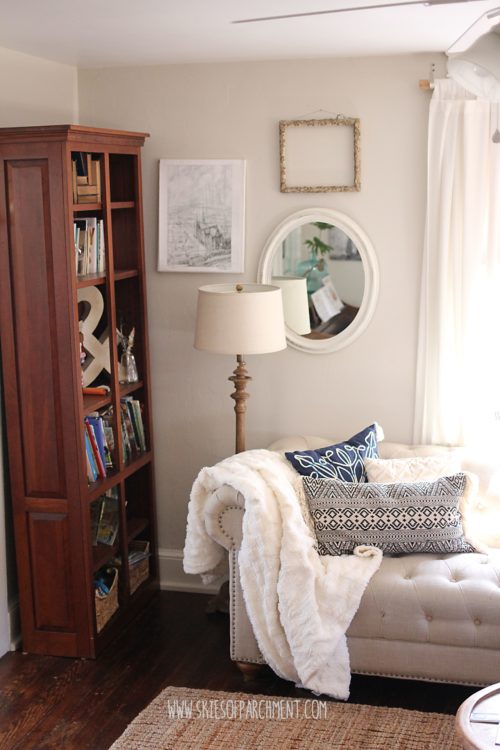 And that wraps it up! Happy weekending from the folks at the Little City House.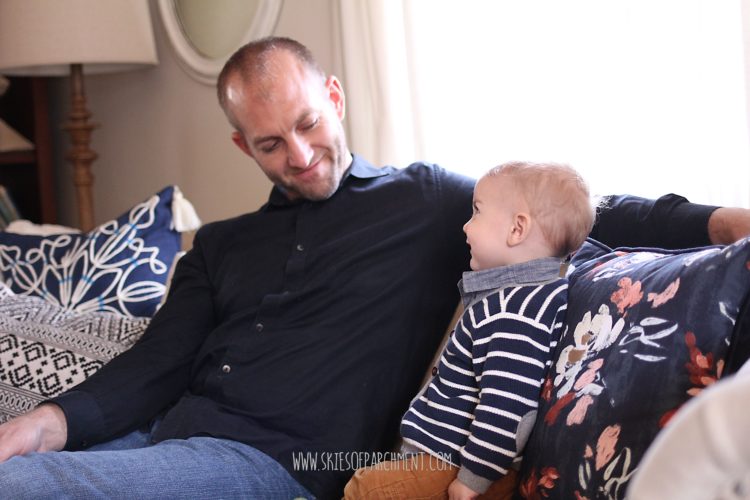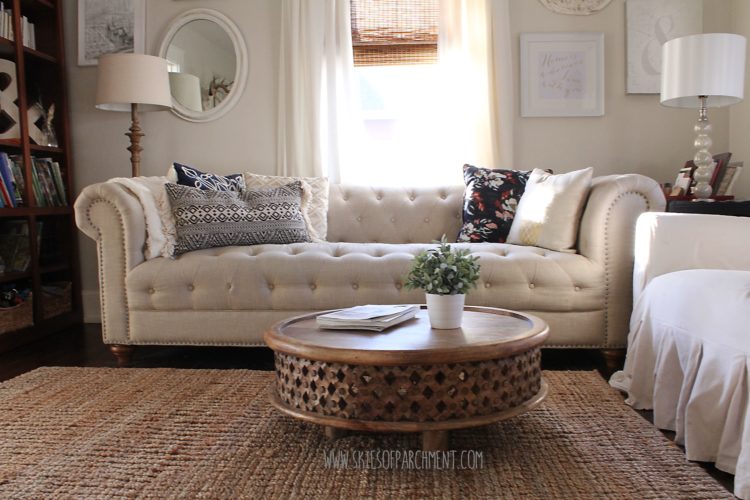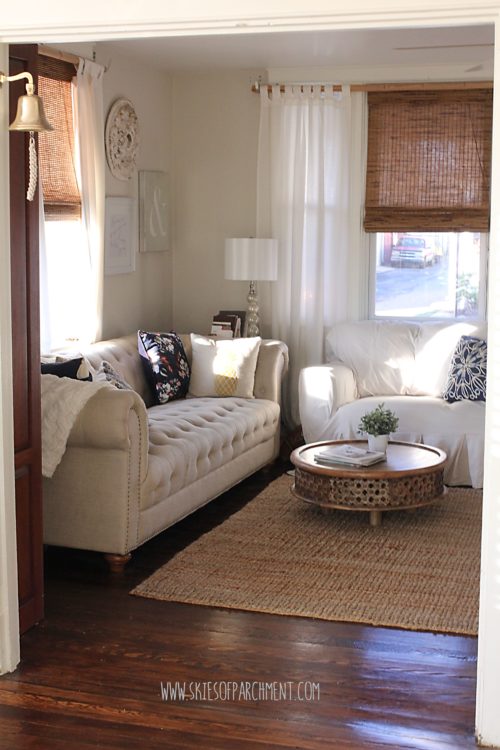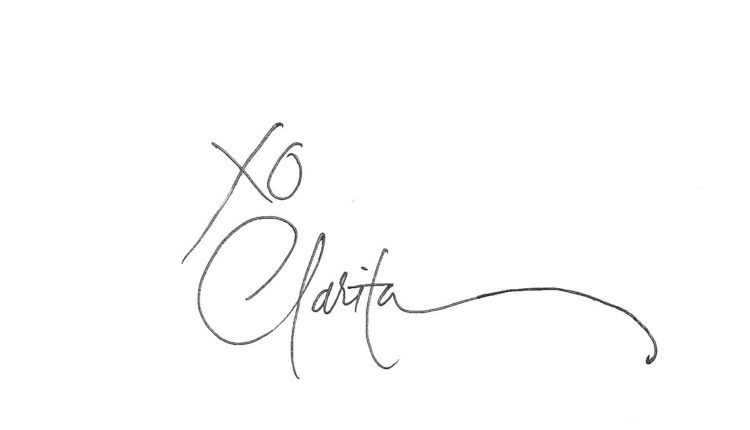 Sources:
Wall Color: Fossil, by Benjamin Moore
Trim Color: Simply White, by Benjamin Moore
Front Door Paint Color: Grey Metal, by Behr Marquee
Coffee Table: West Elm Outlet
Jute Rug: Overstock.com
Sheepskins: IKEA and Target
Gold Bell: Amazon
Tufted Sofa: Craigslist, but originally on Overstock.com
Gold and White Print by the stairs: Aimee Weaver Designs