It's no small secret that moms with young children don't have a lot of down-time. It's just part of life these days, and you know, it's really okay. It's a pouring out into these precious little lives, a giving back of all that I've been given by so many people and especially the Lord throughout the years.
One thing that has been a big change is in my reading. I've always been an avid reader, from the time I first learned to spell. My mom instilled in us kids a love of learning, and a love of education, something I want to pass on. Back in the day (i.e. before children) I would read scores of books a year, dozens upon dozens. And well, that has changed. :)
My love of reading has not, however. I still love to "travel the world" through written word, imagining the story in my mind. But because my time is a lot more limited in "free time" segments, what I do read has to be worth the time spent there. My goal is to read 2 books a month, which for me is a lot at this stage. :) And it doesn't always happen, but when it does I feel very accomplished! Ha!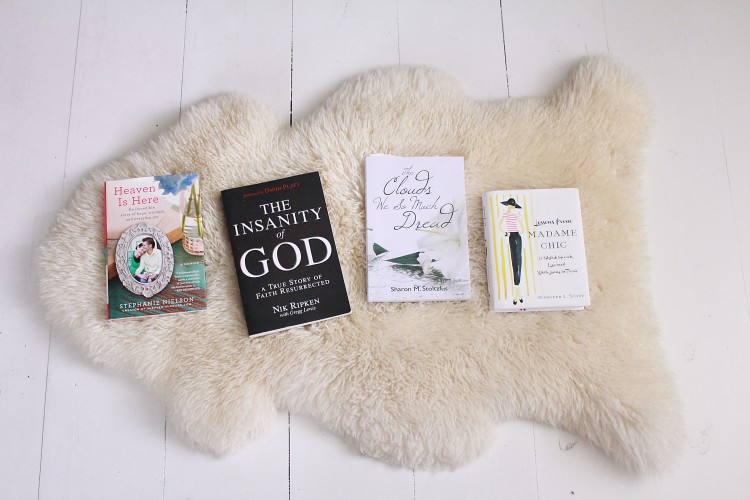 This winter I've read some exceptional books, and I'll share a few of them. Some were recommended by my sister, one was given by a friend, and some I just discovered along the way.
My favorites from the past few months are:
–Heaven is Here (by Stephanie Neilson)
–The Insanity of God (by Nik Ripkin)
–The Clouds We So Much Dread (by Sharon Stoltzfus)
–Lessons from Madame Chic (by Jennifer L. Scott)
Not pictured but read via Kindle:
–Choosing to See (Mary Beth Chapman)
-The Secret Garden (Zoe and I read together, by Frances Burnett)
I didn't even realize it until now, but all of these books, with the exception of The Secret Garden, are real-life stories. I'm not sure why I'm gravitating toward that type of genre right now, except that I am incredibly moved by great men and women, people who rise above their circumstances and choose to learn and grow even from the most devastating situations (The Clouds We So Much Dread, Choosing to See, Heaven is Here). Or people who enter another country (Madame Chic), and view its culture and people with curiousity and delight. Or people who engage with those who have nothing, even at their own risk (The Insanity of God).
My soul has been stirred and deepened, and I am amazed at the strength of the human spirit, fueled by the Creator.
Sharon Stoltzfus, author of 'The Clouds We So Much Dread,' has offered a book to giveaway on my blog.
In reading through her story earlier this year, I was so deeply moved at the strength and courage of she and her husband and their four precious children as they walked through one of the most difficult things anyone could possibly face: a terminal illness,
The heartbeat of God that comes through made me cry on nearly every page. The response of raw honesty and gripping pain combined with open-hands surrender to the sovereignty of God is unlike anything I've ever read. The writing of Spurgeon and other great men of God were often quoted, and brought strength and perspective. The book follows their journey through the discovery of the illness and the walking through some of the darkest days anyone could face.
 I was so challenged in my own walk with God and my view of God through reading this book, and I highly highly recommend it to anyone who is facing or has gone through terminal illness or loss of any kind.
Shortly before the time that Sharon's husband passed into eternity, my dear aunt Freida also reached Eternity. But before Freida passed, she had a passion for widows especially, and her heart and passion birthed a beautiful thing called "Handyman Ministries." This is a businessmen-funded operation that employs men to care for widows and do household maintenance and repairs (and now other people in need) free of charge. The idea was so beautiful, and the carrying out of the idea into reality has touched so many lives and been an incredible blessing to hundreds of people through the past years.
All proceeds from the book, 'The Clouds We So Much Dread', go toward Handyman Ministries, at Sharon's request.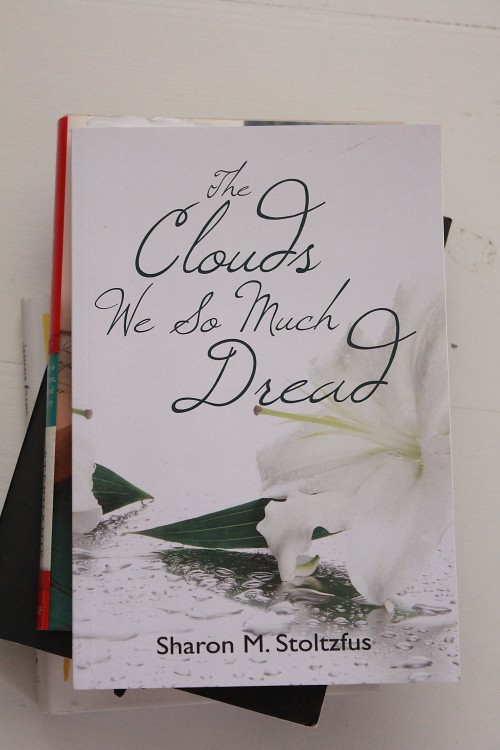 The ways of God are so mysterious… Sharon is now married, to my uncle who was widowed upon the death of my dear aunt. She is a beautiful person and my life is richer for knowing her. Although she and we would never have wished the circumstances that brought us together, we are grateful for the fresh mercies of God and the way He can bring beauty from ashes. Only He is capable of doing that.
To enter the giveaway, simply leave a comment about one of your favorite recent reads!
This giveaway will go from now until next week Wednesday, with the winner contacted on Thursday, April 2.
This giveaway is now closed, and the winner is KRISTA! Congratulations!!