It has been an eventful past five days.
Beginning with a large tree falling in our yard and missing our house by inches, and a trip to the emergency room the very same night (in a completely unrelated incident) when Zoe gashed her head open from her eyebrow to halfway up her forehead and needed stitches… to our vehicle not starting when we got in to go to the ER, to several other smaller incidents. It was quite a day! But we are to thankful to all be okay, and Zoe is healing up well. I think I'm more traumatized than she was!
The next day, we had visitors! Long anticipated visitors! When Zoe had her accident she was so worried that her beloved auntie and uncle wouldn't be able to come after all. But not to worry, all was well! :)
Chris and Claudia knew we were wanting to begin our attic renovations sometime this fall, and SO KINDLY offered to come and help us! The timing of this week worked well for them and us, and wow, are the boys ever tearing it up up there! Chris is a help so incredible we can't even describe… taking time off of work to come and help work, but also to help with design ideas and planning. We would be so far behind if it weren't so him! And Claudia, well, who doesn't love having a sister around?! It is pure joy!
I'm not sure how detailed I'll be about blogging and documenting this attic renovation, but for my own record I want to have at least a bit here and there.
So here are a few pictures of before, during, and now, as well as some inspiration pictures of what we have in mind for the finished product…
After only two days of work, the front of our house has changed so much! Two dormers are being added to the front of the house, both for looks and for light inside. I love how it already cozies up the house, and changes it into a Cape Cod style vs. a Bungalow.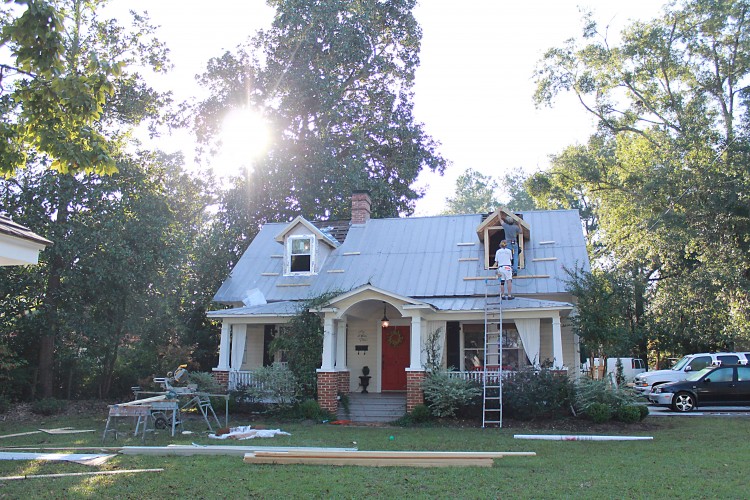 The first day… Monday morning. It began with a saw through the metal roof, making a giant hole. Too late to retreat. Yikes.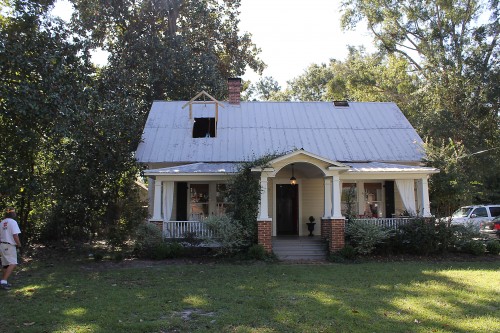 The second chimney had to be taken down (see the picture above) because of it's placement in the middle of a room in the attic. Thankfully, it was not the fireplace we use, so we will still have the looks of the fireplaces downstairs in the kitchen and dining room even though they will not be functional at all.
But back up a bit….
Presently our dear little cottage has only two bedrooms. My previous post talked about how all three kids are in one bedroom, which is great! :) However, we cannot do that forever, and in the long run the house will be valued at more if it has four bedrooms vs. two. So, the plan, begun four years ago in dreams only, was to turn the unused attic space into two more bedrooms. We added a stairway from the downstairs to the attic when we remodeled four years ago, because of eventually wanting to finish it out. But the stairs led to this: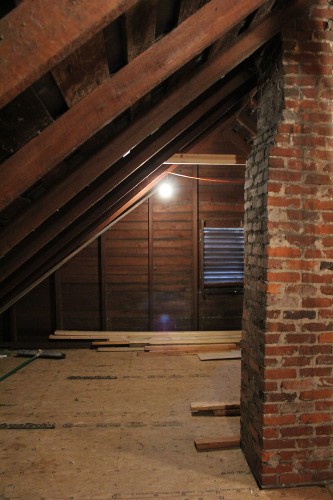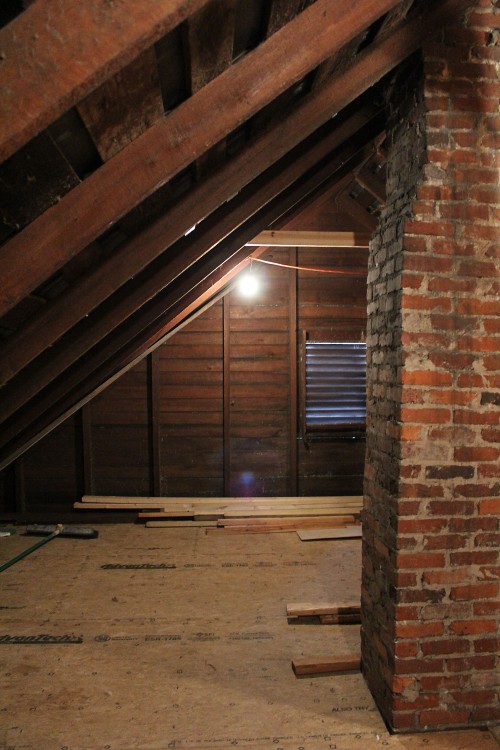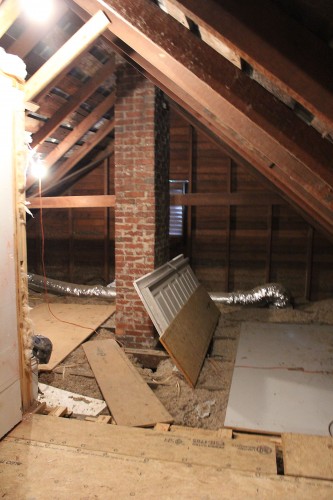 So, yes, there is an almost overwhelming amount of work to still be done. The interior has not be touched much at all, other than the dormers. However, just that alone makes me so excited because it brings in so much LIGHT. And I absolutely LOVE natural light!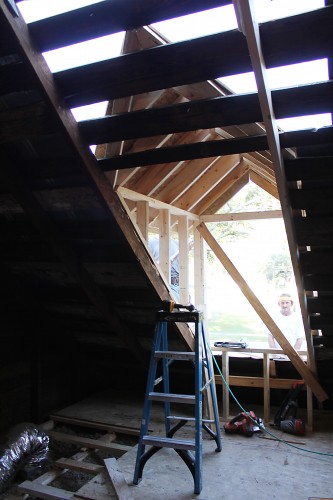 At this point, there is not much more I can do than clean up the dust at the end of the day. So I can peruse the internet and dream about the finished product. ;) We are on a time-crunch: this has to be completed and decorated by December 13, so we have just a little over two months. Which, if that's all my husband would do, that would be fine. But this will be done evenings and weekends, which means our autumn looks just a leeeeetle crazy……..
But look at some of these pictures that I'm inspired by, and you'll see why I'm really really excited. :) I'm drawn to white as I look through pictures, a lot of white. So I am wanting to go with a very simple, natural look. Maybe more European inspired?
We plan to use one of the rooms as a bedroom, and one of them as an office/work area. Here are few inspiration pictures for that…
image via
Sooo,  that is what is happening around these parts right now, and over the next two months. It's fun and exhausting and exhilarating and exciting all at once. :)