We've been here at this little house I affectionately call "The Cottage" for four years now, and if you've read here for any period of time you know there are a few before & afters!
Although it's been a long time (perhaps years?!) since the last one, ones are still remaining are
the Front Porch (which was just finished up this summer and I'll show in this post),
the Master Bedroom,
the Kids' Bedroom,
the Back Patio (completed just this summer as well),
the Master Bath,
and the music room-turned-school room.
Also in the near horizon is the finishing of the attic into two studio-style bedrooms!
Whew.
Anyone who is a homeowner, especially the owner of an house built in 1906, knows that the work is never really done. Sometimes that's okay, and it's fun to see the progress. Other times? It becomes discouraging and a rental sounds appealing!
But for now, we continue to work at The Cottage, and our front porch is a place we finished up this spring and use almost daily. Here we go!
// before, spring of 2010 //
The pillars were being prepped for painting, thus the scraping, but you can see the green paint from the trim color of the pillars and windows from before, then covered with grey.
It had pretty bones to it – the square pickets, the wood columns with a brick base, the wood floor. It just needed some work.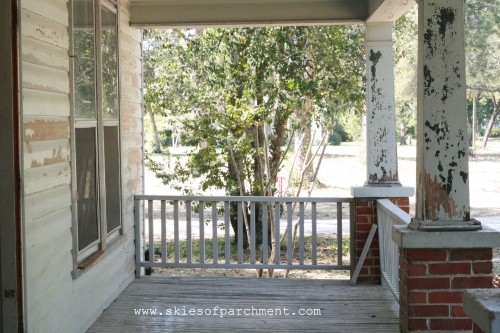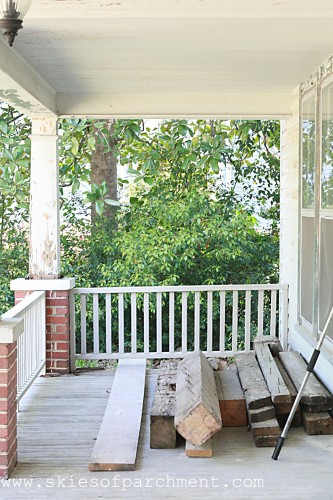 // windows with green trim and storm windows //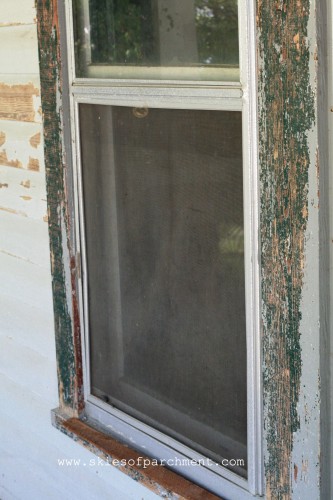 So after we bought the Cottage, we painted the house and the trim, but the left the floors as they were for some time. I thought I liked the old patina of the floors, and that it added to the cottage-y feel I wanted. It certainly did add to the old feel. :) And this is how we had it for several years.
// a red bench (found at an junk shop that was purple that I painted red to match the front door).
two old chairs Ben found in the, um, dumpster.
windows that were hung on the ends of the porch to create a "room" feel.
curtains hung on bamboo rods. //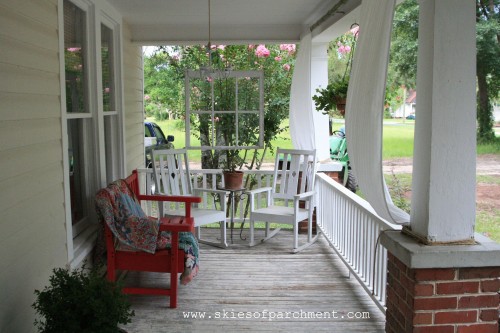 I liked it fine, and we used it often.
But this year my husband decided it was time to paint the old floors, and to finish the trim around the pillars (see picture above). Some of the wood was rotted on the floor and around the bottom of the pillars, and some was gone altogether.
So we (meaning, my husband) began by replacing the steps that were nearly falling down. The entire project from start to finish was not an easy Saturday project. It took several Saturdays, two weeks with no front steps, and a couple of evenings until midnight. It just how this kind of thing goes when you're trying to DIY.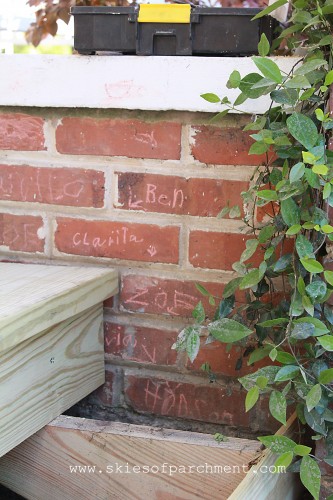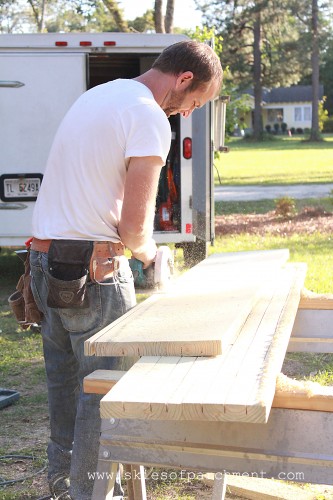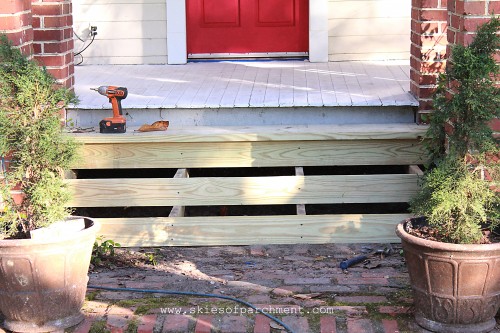 Choosing a color for the floor was extremely difficult.
"I want white!" I declared, airing my non-practical idea freely.
Thankfully, my sweet husband who usually goes along with my whims, stopped me in my tracks, and said (kindly) that there is no way we are having white floors. Outside, and three kids? Just, NO.
Next up, was the color grey.
The CHAMELEON color GREY. Gray. Whatever.
(I do like the English spelling.)
But meaning that grey at the store is not grey at your house!
Grey can be green, or blue, or purple – anything but true GREY!
We wanted something that would hide dirt as much as possible, that would coordinate with the existing color of the house, and that would look good on the steps because that's seen from the road. Our house is a light creamy color, so no brown tones, and charcoal, although pretty, would be too much contrast. Tricky for sure.
The samples we put on the floor: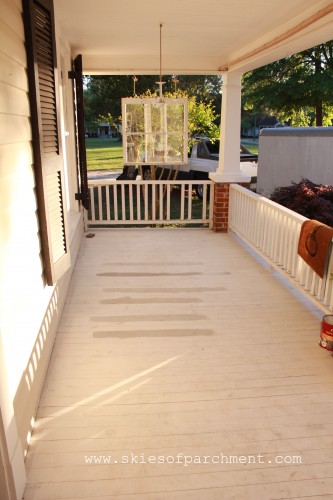 And we went with… none of the six. But a true grey is what I wanted.
Instead we went to the nearest Sherwin Williams store and went with a new paint that they said is almost plastic, and that has a lifetime guarantee. Expensive, but it went on nice and thick. Like,  some of the nicest paint I've ever painted with. And I've painted a lot.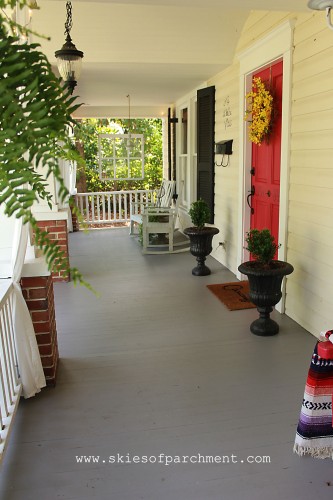 At first I thought we made the worst mistake in the world with the color, and I was going to pour out my piggy bank and buy a whole new color with all my pennies. I just didn't like it. It was so DARK compared to the nearly white of the patina we had before, and the contrast was too much for me. It was SO GREY.
But I couldn't quite bring myself to buy a whole new gallon. And thought that I'll just try to live with it for a while. Several months later? I like the color. Fickle woman.  Patient husband.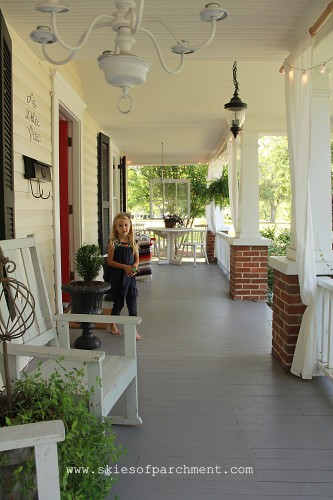 If I would have known how different, and how much cleaner, this has made our front porch feel, I would have done this from the very beginning. I really really like it now. And it makes the bit of furniture on the front porch pop, both the white and the red pieces I have there.
The only complaint I have about the floors is that they are hard to clean. I wipe up them once a week with a mop and SCRUB them hard. Those old wooden paint-chipped patina floors? They hid every little speck of dirt that every came on. So I don't know if it's this kind of paint that seems to be a magnet to dirt, or if that is painted floors in general?
A few details…
The purple bench I rescued and painted bright red to match the front door.
The $5 Aztek blanket from a yard sale.
The pillows made by me, except for the compass (H&M)
Shutters were being thrown away at a job Ben worked at once, so he brought them home and painted them and hung them. (answer to a prayer I never even thought to pray!)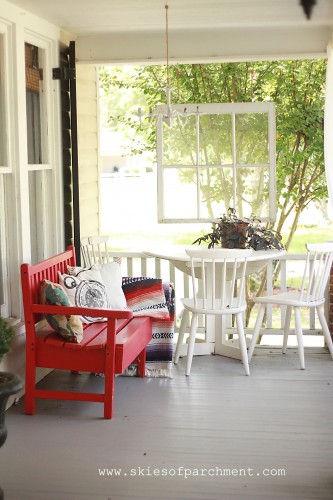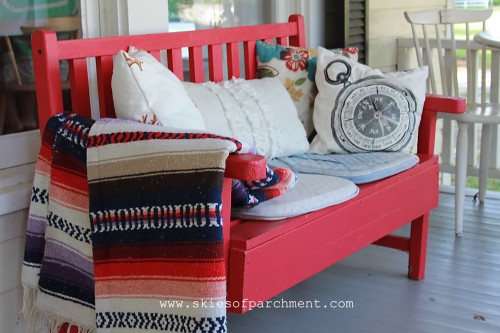 // Little Eating Corner //
Table and chairs  (gifted) that were a light oak color that we painted cream.
Old window from a junk store.
Thrifted chandelier (for pretty only, and for head-bumping).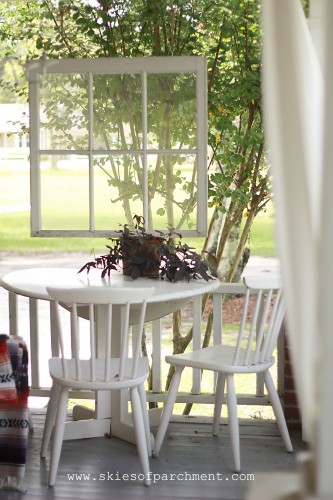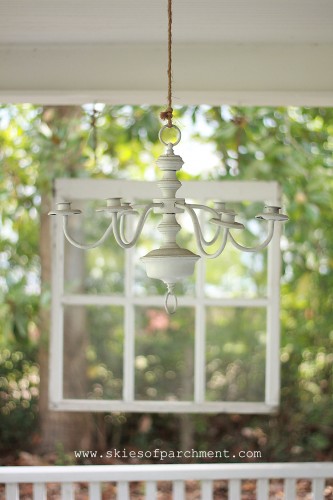 The old wooden columns came to life after Ben sanded them, used a grinder on them, and then primed and painted them before adding trim. (Yes, that man worked hard.)
We planted Creeping Fig to go around the brick pillars (a southern plant, I think).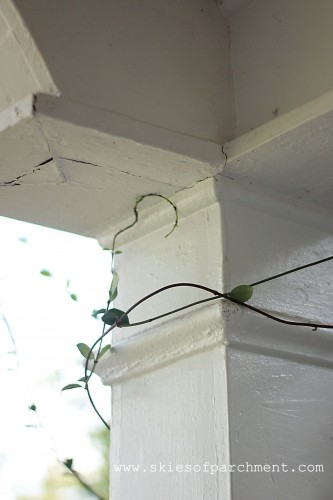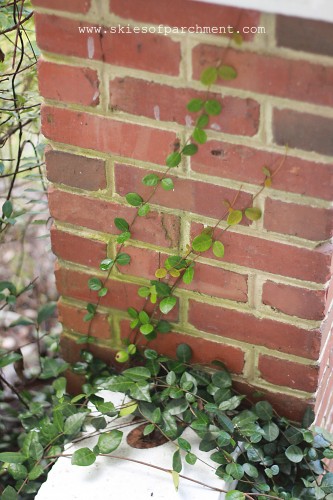 And we planted Confederate Jasmine to climb over the entryway. This is one of my favorite things about the front entrance. In the early spring, it blooms with hundreds of little while flowers that smell like a dream! I would plant this everywhere if I could.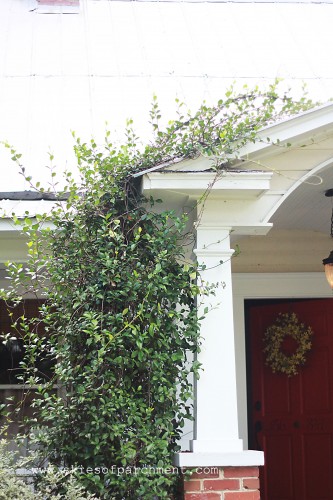 For a few accessories, I made curtain panels. I wanted something inexpensive and that would wash and bleach well. So I bought two of these sheets at Target in double size (even cheaper if you have a Red Card), cut them in half, hemmed the sides, and made a rod pocket on the top. In the end, they cost just pennies over $5 a panel, so about $20 for them all.
For a rod, we used bamboo that we cut and dried in the sun for a few days to allow it to turn that beautiful golden brown color, and then mounted them on curtain brackets (found in the hardware section at Walmart or Target or Lowes, etc. ). $10 for the brackets.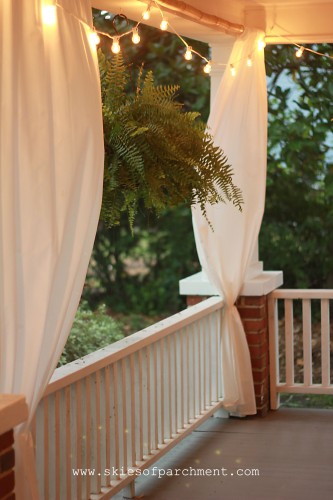 The globe lights I bought at Novelty Lights. I wanted a white cord, and I was very pleased with this purchase. I bought two sets of 25 lights. The magic they add to an outdoor space cannot be described! They are well worth the purchase (and Target often runs a sale on them in the fall)!
Also, if you want beautiful gorgeous ferns? Soak the whole planter in a large tub of water with a few heaping tablespoons of Epsom salt overnight, and do this once a week or so. They will become so big and beautiful and lush vibrant green you'll think yourself a green thumb for sure! At least, it consoles my Black Thumb within.
A wall-mount mailbox was found at a junk shop.
"La Dolce Vita" means "The Sweet Life" in Italian. I painted it on the front porch wall because I always want to remember how precious this life is, and what a gift I've been given.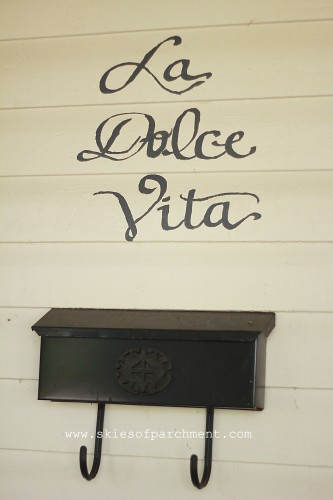 I bought two concrete planters with money I had saved, and filled them with small boxwoods. I loved the updated, formal look this brought to our porch.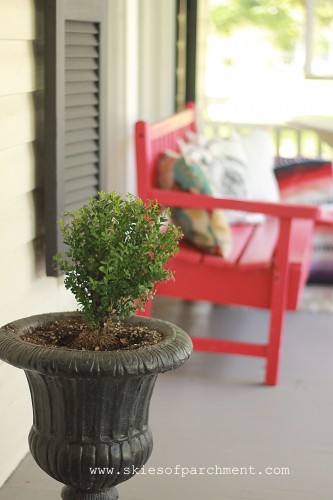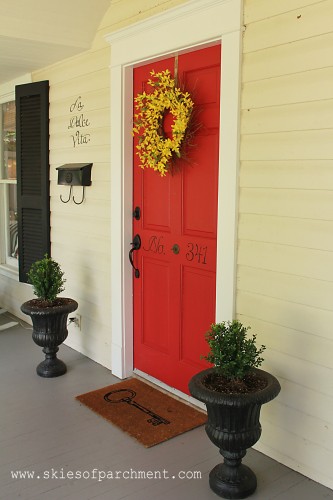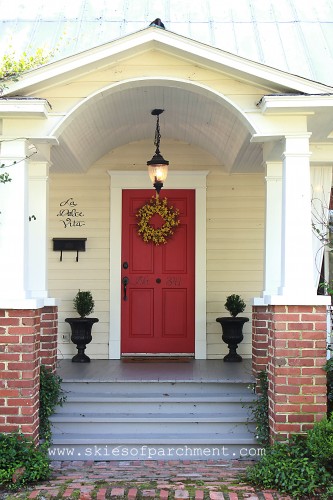 So now, in the early mornings, or for lunch, or on rainy evenings, or for no reason at all, this is where you might find us. Or our bunnies. And eating ice cream.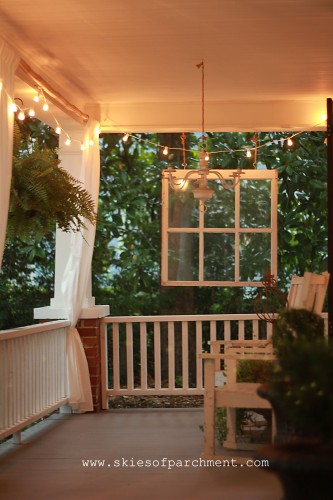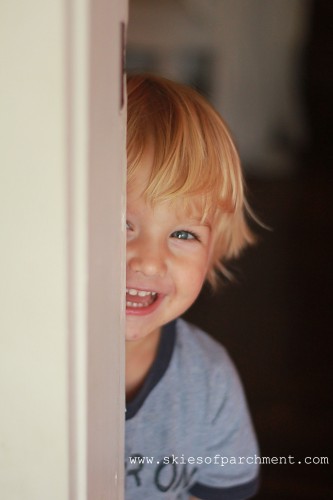 It's simple and understated, and it's cozy and practical.
We love it.
 "After all," Anne had said to Marilla once, "I believe the nicest and sweetest days are not those on which anything very splendid or wonderful or exciting happens but just those that bring simple little pleasures, following one another softly, like pearls slipping off a string." -L.M Montgomery, Anne of Avonlea
Happy weekend, lovelies! Enjoy those simple little pleasures.