A week ago I was part of a little cooking demonstration with ladies from our church. It was a fun, informal event, and the basic gist of the evening was that different women were asked to show how to make particular dishes.
One woman showed how to make THE pie crust (which I am so excited about trying, because all my pie crusts have been epic fails!), another how to decorate a cake using various tips, and still others on butter making, Bourbon Chicken, and Gyozias. It was so fascinating! Plus, our church ladies love to talk, so any spare minute we were busy chittering away. :)
My part of the evening was to talk about Making Biscotti. Since I've given a few biscotti recipes on this blog before (Chocolate Chip and Pumpkin Spice) I thought I'd include a third recipe here, along with a few tips I gave that evening.
Let me just preface by saying it really did tickle me to be giving tips on making biscotti. My roots are European of various kinds, but Italian is not one of them. So basically I'm a work-horse German giving advice on an Italian treat. It's kind of like an Italian giving a class on Amish cooking. Kind of humorous, right? :) But it really is amazing the various cultures of foods we have available to cook and eat in our modern day!
________________________________________________________
This is quite possibly my favorite recipe. I created it several years ago, and although it could be seasonal during the winter, it's also perfect anytime of the year.
The Ingredients For Gingerbread Biscotti:
Cream together until fluffy:
½ cup butter, softened
1 cup white sugar
Then add:
3 eggs, beating well after each addition

1 teaspoon vanilla extract
¼ cup molasses
Sift together dry ingredients:
3 cups flour
1 ½ teaspoons baking powder
¼ teaspoon salt
1 ½ teaspoons ground ginger

1 teaspoon ground cinnamon
¼ teaspoon ground cloves
Gradually add dry ingredients to butter mixture,  then stir in:
Grease a jellyroll pan (which is slightly smaller than a cookie sheet). Divide dough in half. Using heavily floured hands, shape each half into a log form, and place on a jellyroll pan, on the shortest length of the pan. Continue to shape, making each log approximately 5 inches wide.
Bake at 300 degrees for approximately 35 minutes, or until the top is firm. Remove from the oven and cool, then cut each log into 1-inch slices using a sharp serrated knife or electric knife. Return to the oven and bake at 200 degree, or the lowest temperature, 7 hours or overnight Bake until completely dry. Cool, then frost with white chocolate icing (Ghirardelli melting chocolate).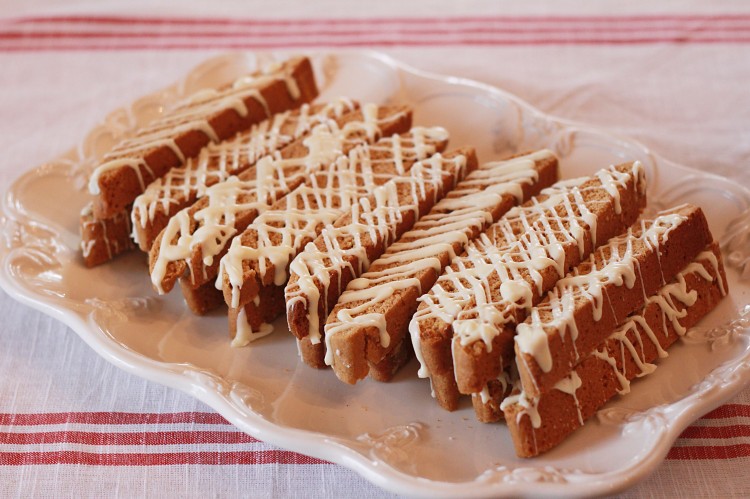 A few pointers:
Many people are scared of making biscotti and think them intimidating and difficult. Let me just say: biscotti may take some time to make, but the truth is – they are really very easy. If you can pull out a mixer and put ingredients together, you can make biscotti. The twice-baking is what makes biscotti unique from many other cookies or specialty baked items.
In the recipe, there are a few basic instructions that factor into the biscotti of your dreams. :)

1. Softened butter vs. melted butter: This makes a difference in the final texture of the dough, making a soft dough rather than a watery texture.
2. Beating each egg well: Beating each egg well helps with dough elasticity, resulting in a final product that holds together well and isn't crumbly/doesn't break apart. Often homemade biscotti tends to fall or crumble apart, and it may be because of this small step.
3. The log size: Remember that the dough rises because of the baking powder, so be sure to spread the log wide (about 5 inches) rather than short and fat. The final product will look bigger than the pre-baked log on the pan.
4.  The slow baking times: I do not recommend a baking time of higher than 300* for the first baking, and 200* for the second. Of course, it's very possible to bake at a high temperature the whole way through for both baking times and have a finished product much faster. However, I have a theory [and it's only my own theory, but it has held true for me]: a fast baking, whether in biscotti, granola, or a few other things results in a bit of a "burnt" taste in the final product. Yes, it is finished faster, but there is a hint of a burnt flavor. A SLOW baking time, in my opinion, not only doesn't have the look of the dark edges, but it also seems to enhance the flavors of what it being baked. A bite into a slow-baked biscotti, such as gingerbread, and you will be able to taste the ginger, the molasses, and maybe even some of the other spices. The flavor is incredibly richer. The overnight baking at the very lowest temperature your oven will do (180 or so) is what I've found to be perfect.5.
5. The melting chocolate. A friend recently introduced me to the Ghirardelli melting chocolate, which is amazing in and of itself. If you've worked with melting white chocolate chips before, you know that sometimes it turns out perfectly and other times it's a sticky hard lump that you can hardly spread with a knife! The melting wafers are amazing. It's the perfect melted consistency which you can then pour into a condiment bottle and use to drizzle on the icing. Melting instructions of various kinds are even on the back of the packaging.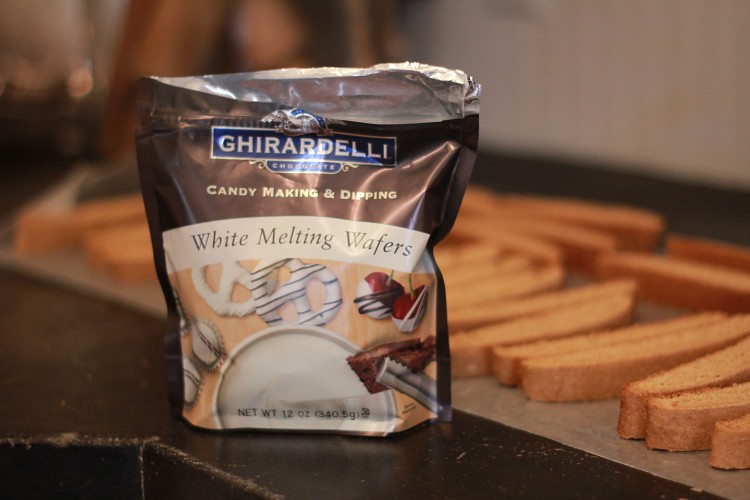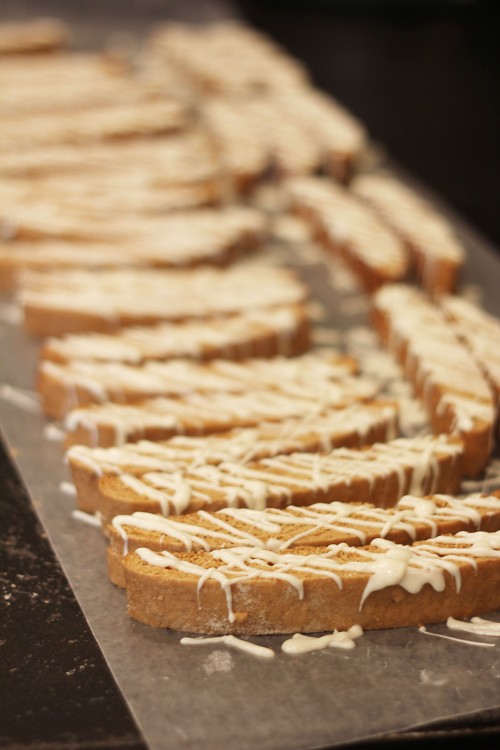 So there is my favorite recipe and all the  things I've learned by trial and error tricks up my sleeve. Hopefully it will help someone out. :)
Enjoy!