I'm Clarita, and I would love to have you as part of our amazing team!!
Wondering what it means to be a Plexus Ambassador?
Well, it's a lot like a Costco/Sam's membership, only better!
-You aren't required to sell anything.
-You can shop at wholesale (CHEAPEST) costs for 1 full year for only $34.95.
-You get a 60-day money-back guarantee on all products!
If you DO share Plexus with your family/friends and someone purchases from you, then you start making an income. It really is that simple! Plexus offers a super generous comp that easily helps you pay for your products, and I am honored and thrilled to have an every-growing team of over 500 families that we are helping to THRIVE in their health!
There are:
-No minimums to stay "active"
-No inventory…
-No deliveries
-No stock to purchase
-No parties needed
-No monthly membership or website dues (your membership is good for a full year)
-Website is provided (including all kinds of information for you and your customers) and no special skills needed to run it.

All I do is share what it has done for me, my family and friends!
I'm looking for people with good character who have a passion for helping others – that's what sets this business and company apart from any other, that we are first of all about helping other people! Work hard and love people; that's really the backbone of what makes it work!
And secondly, I'm looking for other people who want to supplement their income. Maybe all you want is enough to do a date night every month? Maybe you want to buy your husband a birthday gift without using his money? Maybe you want to take your family on a vacation? Maybe you just want to be able to buy groceries without that tight feeling in your chest? Maybe you want to replace your income and become a stay-at-home mama? Whatever it is, I am wanting to help you reach YOUR goals, and help you be successful! I am an Emerald Ambassador with Plexus Worldwide, and this income chart from Plexus is a pretty accurate description of my experience with the business side of things! I'm so grateful to be a part of it, and help many other people reach their goals too!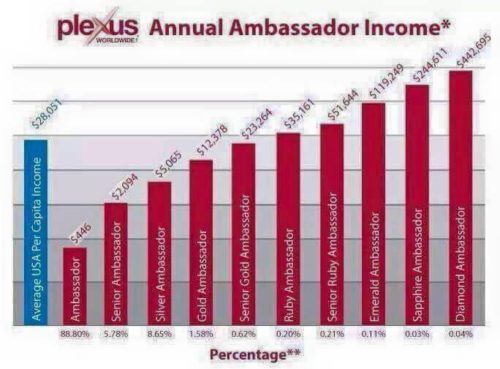 Do you have some questions? Shoot me an email over on the "Contact Me" tab!
Have you already decided that you would like to join this company and be part of an amazing team?
Here are the easy steps!
1. Go to www.plexusslim.com/claritayoder and click 'Join Plexus' in the top right corner.
2. Select your country, and then a Welcome Pack (a bundle of products at less than wholesale prices as a one-time gift!) – The Triplex is everyone's FAVE!! –  and continue.
3. Select any autoshipment (I always suggest the Triplex, because [heart eyes] we just love it!, and we can change and customize this at any point) and continue. You won't be charged for it, but it will help you be consistent with your products next month!
4. Enter your information, and payment info.
5. That's it!
After you join I will be contacting you personally, and walking along with you to ensure you have the best support possible! Our team is thriving and continually growing with momentum, and you will love the community and friendships you will find over at the Wellness Village of Team Vitality!
~Clarita