[ sorry for those of you who received this twice: i was having technical difficulties! ]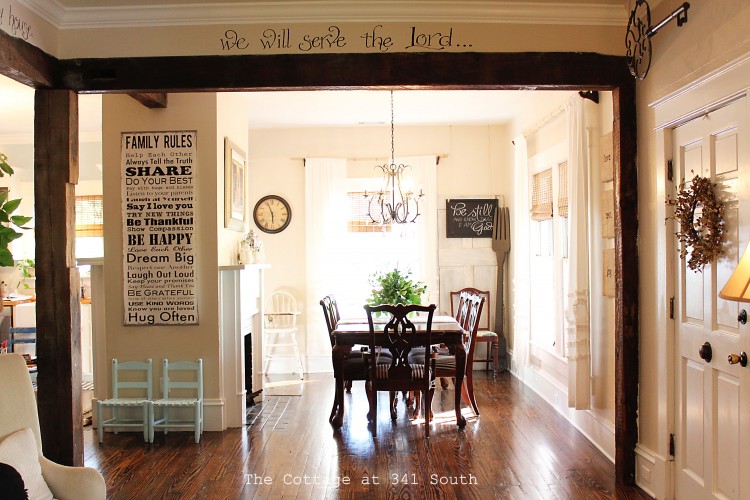 So, there are periods of time when I go about my days in my little cottage without the thought of a new addition or project.
Maybe I'm busy with My Faire Lady Designs orders and don't have time for it.
Maybe it's other things in the schedule.
Or maybe it's that I just don't even have a project in mind.
And THEN there are other days when I am FLOODED with ideas,
and with Type A personality in high gear, it simply MUST be done.
NOW. TODAY.
Tomorrow might be okay, but today is better.
So, here are just a few projects from the past months.
And I kind of laugh seeing these picture, because really, when does my house look ready for pictures except when I intentionally get it ready? Right now there is a big pile of laundry waiting to be folded on the sofa. There are kids' papers piled on the table. The pillows are all askew on the living room floor. Just so you know, people! I don't live in a perfect house either. :)
The Family Rules sign… This is a beautiful reminder of my friend Ruth. She had the same one in her home, and it so perfectly fit what she made their home to be. Since her passing, several family members and friends now have this in their homes as well. ♥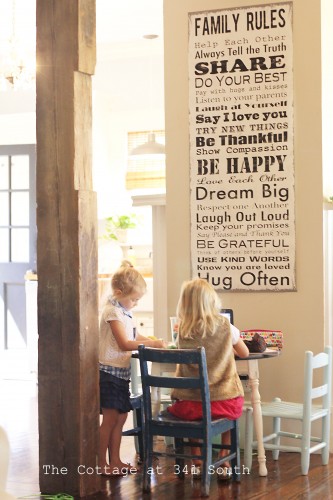 Oversized family picture in the living room. This is an idea I had seen around different blogs, but when my friend did a similar thing, I knew I wanted to do it! :) It's the engineering print size (24 X 36) only available in black and white, at office supply stores. We wrapped it around a foam board to make it look like a canvas, and I may still go overtop of it with modpodge to make it look more canvas-y. Total cost: approximately $8. Crazy!!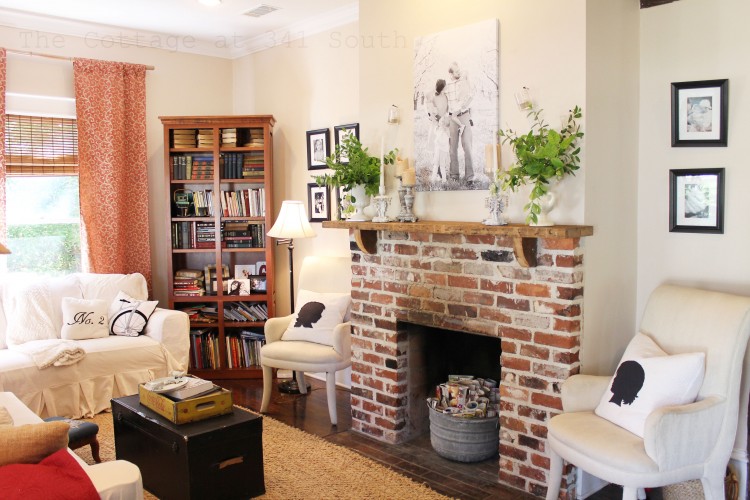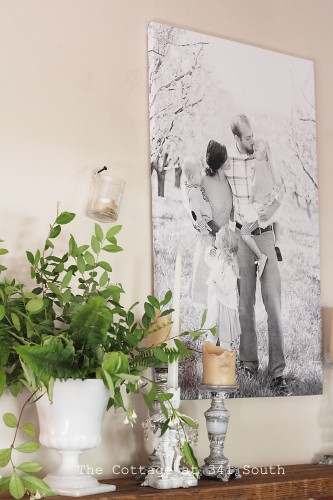 A few new pillows – they are so easy to make, and they change up the living room so cheaply. [ruffle pillow from Target, all others handmade]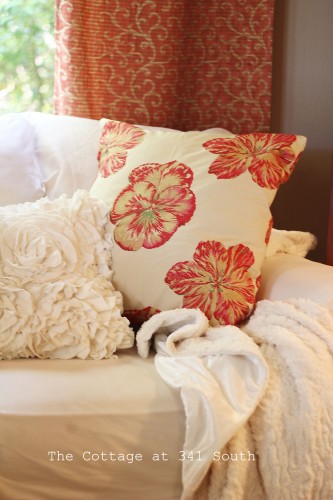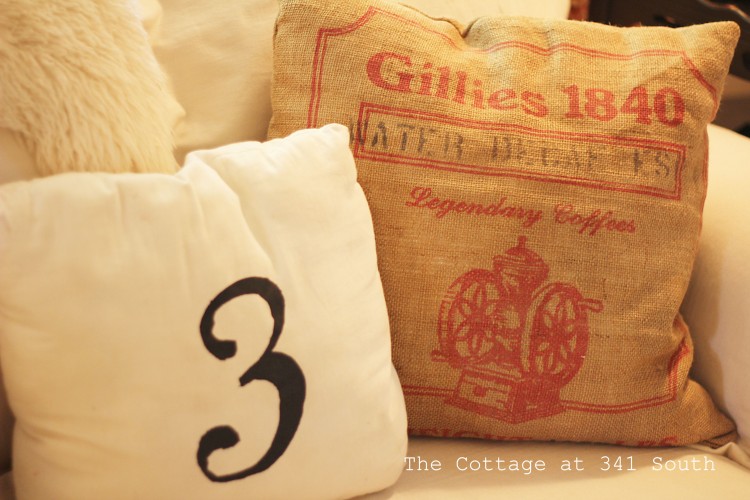 It's the little things, folks. :) I found this key ring at Hobby Lobby for less than $5. It fits the key decor in the living room (I didn't try to go with a theme, but I guess I collect keys!)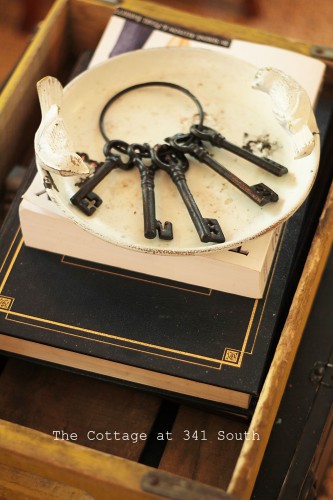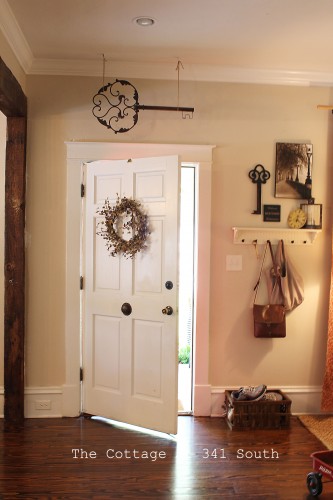 And since I'm into oversized things, here's another new one: a large wall map above my newly-painted desk.
Amelia inspired me to repaint my black desk another color, so I used some leftover paint my husband had from a job… It was perfect, and my husband wondered why I waited years to do it!
The map I bought off ebay for super cheap, but it's not the color I was expecting. I was hoping for more blue-ish tones to coordinate with my desk. But, I can't beat the price and find another one I like for the same deal, so it stays.
The idea was to use map pins to mark places in the world I've been. I had thought previously I've done a fair amount of traveling. When I was finished marking the countries, I was flooded with the realization that 20 + countries really isn't very much in God's huge creation! He is so vast, and varied, and so huge!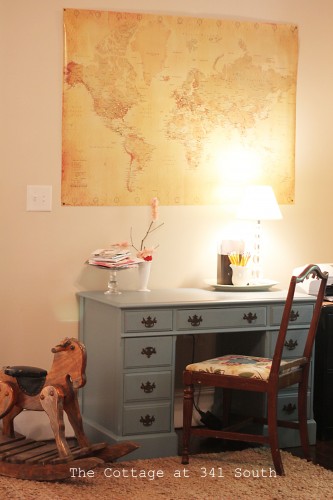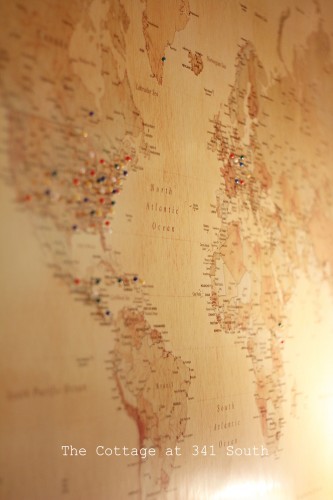 Love Note Banner: I used a thin ribbon and sewed on black & white pictures and love notes from my husband… "his banner over me is love…" ♥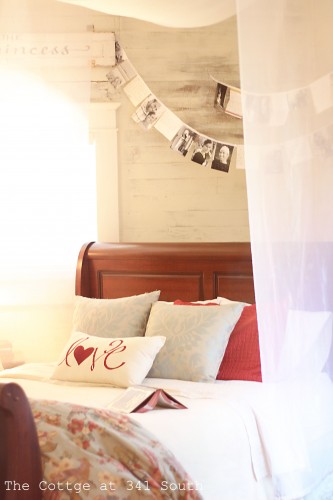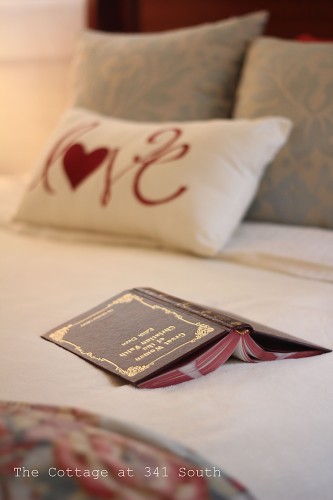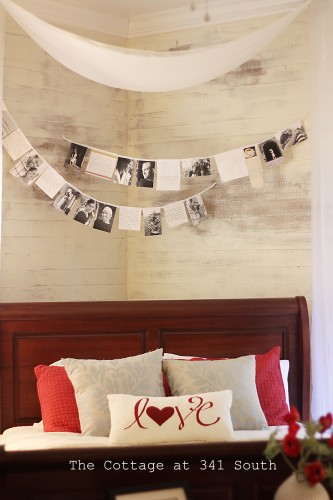 The kitchen. My sisters inspired me to do a plate wall… They had seen the idea on Ruche, so we all agreed that we would do one. Kidding. Actually, I said, "I'm going to do one too!!" :) I found a few plates at yard sales and the rest were ones given by my grandmother years ago.
At first, I just tried generous portions of stick & tack. BAD IDEA. There were crashing plates at all hours of the day, and finally one night at midnight I took them all down after hearing a darling one break. Ruche recommends museum putty, and they weren't joking. They also recommend tea cup plates, and they weren't joking about that either. I hung two larger plates using the official plate hangers with springs, but the rest are now secure and not one has fallen since using the museum putty.
I feel a little English with my tea plate collection. I LOVE it so.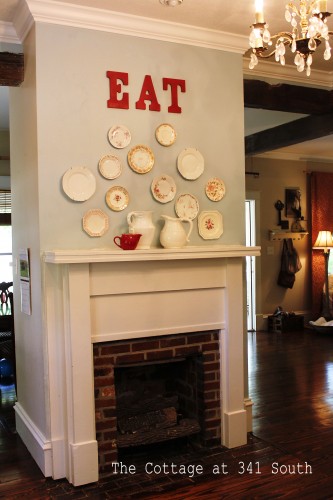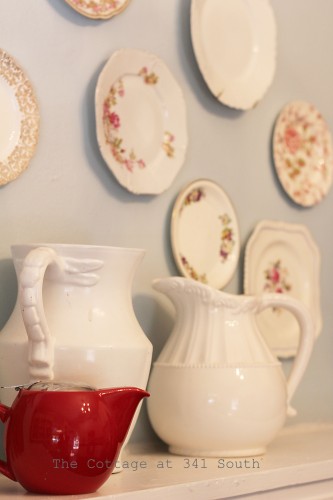 Since I added plates above the mantel, I took down the plates above the door and hung oversized (see, I told you I'm on a binge) silverware there instead.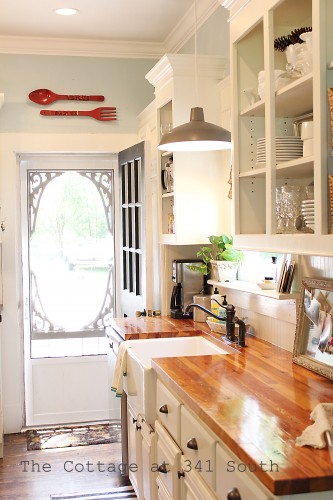 I think I mentioned my free pendant light before? Well, here she is again. Hanging right over Audrey (I had to name my sink, she was so pretty).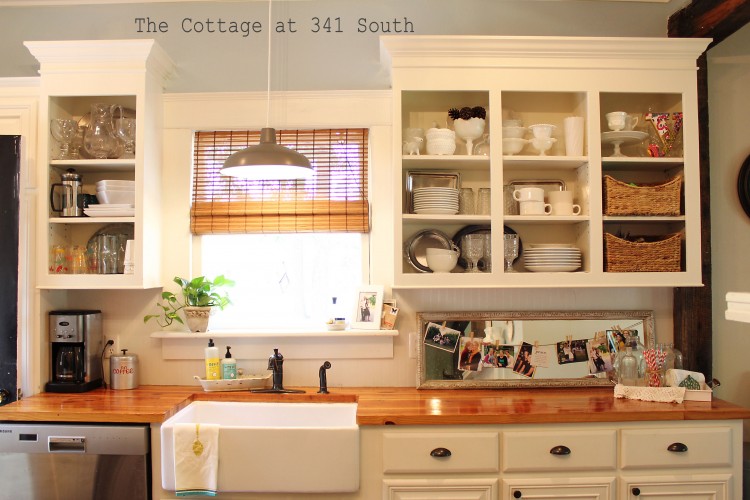 The second of our two bedrooms now holds all three kiddos. Until we finish out the upstairs, which isn't too near in the future, I'm trying to figure out a way to creativity, cozily, and in a very organized manner hold two genders and three children in one small-ish room! It is the biggest challenge of our living quarters.
This is Hudson's new corner.
My husband is worried the bed looks too girly. But we have no full-size crib. So we do a boyish sheet, and add the whale pillow gifted from Amber, and make a blue pillow from scrap cloth, and hopefully it'll work for now. :) The large 'H' is from Hobby Lobby, and spray painted.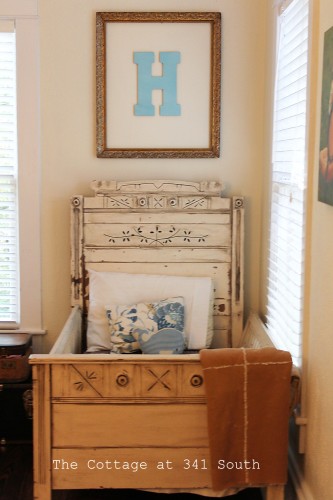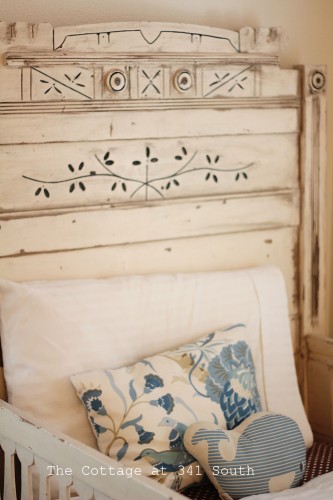 I was asked the question recently, "What does creating a lovely home mean to you? Is it a creative outlet, a way to care for your family, a way to use your talents, is it because it makes you feel good? Anything goes!!! and there can be multiple reasons!"
It was a good question, and I answered back after a lot of thought. What are the motives behind doing what I do? The real reasons? It is because of what people will think if I don't, or what they'll think if I do? It is because it's fun? Why is it important to me? And how does Jesus be glorified in it all?
Before I give my answer, I'd love to hear your thoughts! What does creating a lovely home mean to you?