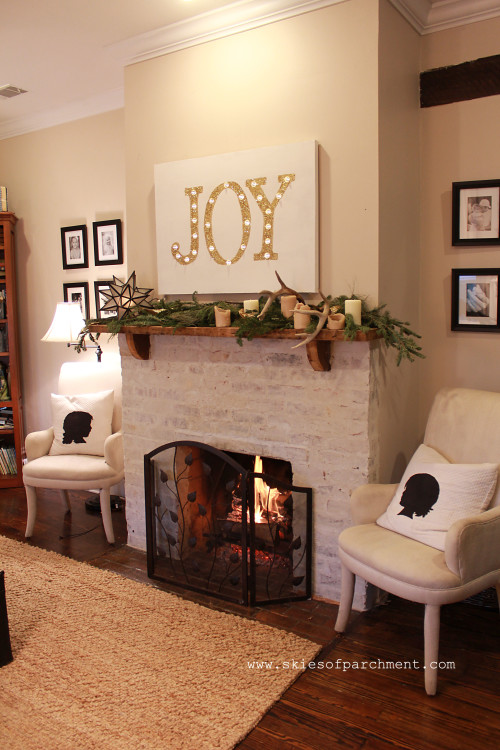 It's the 2nd of December!
Is anyone else in disbelief that this is the last month of the year?! I still feel stuck back in October, and it seems impossible that it's nearly Christmas!
However, next week is the Christmas Tour of Homes that we were asked to be part of, and the fluffy of activity around here shows the reality that this is actually NOT September at all. Things are moving right along with the attic remodel, but we are still finishing up the painting and needing to install floors. Don't make me panic by being shocked, it's just a little nuts. But there are some amazing things happening upstairs, and I can't wait to show you! My husband is just a master at his trade, that's all I'll say. Oh, except I'll add that he made sliding wooden barn doors out of reclaimed lumber for the closets and bedroom doors, and they are unreal awesome. UNREAL.
But, back to the marquee sign! As I pulled out the little bit of Christmas décor that I store, and brought in huge armloads of fresh greens, this JOY marquee sign came out again. And I fell in love all over!
I made this as a reminder to me that joy is not a feeling, or a circumstance. Joy is a deep reality that is true, even in the middle of sorrow and pain. I was mourning the loss of my friend Ruth, and Christmas just didn't have the same happy, warm-fuzzy feeling. I made this to remind me that JOY is because of Jesus, and the deep reality of Heaven and eternity. And that this life is not the end of the story. Joy means more to me now than it ever has!
So last year when I showed the cottage at Christmas time, quite a few people asked how my husband and I made this marquee sign that we hung in our living room. So, a whole year later, here's a little tutorial for those of you who would like to know how!
There are probably as many different ways to make a marquee as there are different DIY marquees. This is only one, and we went this route because it was the least expensive. Ha! And you could use the little Christmas tree lights, or different words, or anything you like! I combined several ideas I found online for this specific marquee.
SUPPLIES NEEDED:
– plywood cut to 2 X 3 feet size, plus extra to make 2-inch sides
– white paint
– Mod Podge Glue
– Gold Glitter
– Paint brush
– Stencil and pencil
– Patio lights (1 set of 24)
Okay, so I will say that I needed my husband for the beginning of this project. Because of how the lights and cords are in the back of this marquee, you need sides on the board or you will see all the hardware and jungle of cords from the side. You don't want to see that, trust me! So he added the sides for me to form a small box-type of board, to hide all the things behind it.
So, here are the steps:
1. Cut board to size (we made it 2 X 3) and add sides.
2. Prime and paint white.
3. Sketch or stencil 'JOY' with light pencil marks, centering in the space. I made them very large, filling most of the board.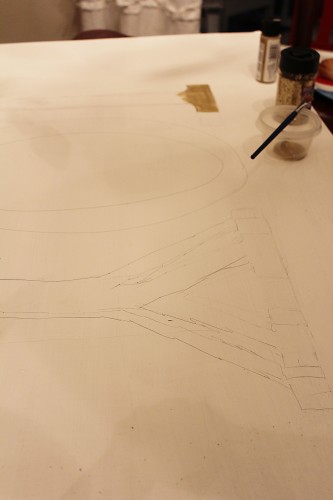 4. Drill holes.
This is just a small hole (we made ours far too big; we learned as we went and didn't make a perfect second marquee! :), enough to allow the base of the light bulb to go through. You want it to fit tightly so it holds the bulb snug. We bought a package of 25 patio lights, and marked 8 holes per letter. There was one bulb and socket left over that we didn't use, and then had an extra light bulb if we needed it.
(We actually did step #5 before #4 and that was a bad idea. We had to touch-up paint, and it would have saved time and been better to do #4 first.)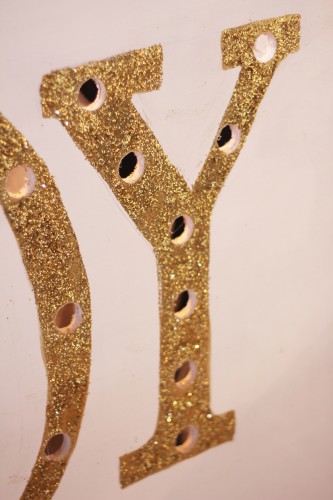 #5. Paint with gold paint, let dry, then paint with clear Mod Podge and sprinkle with gold glitter. Heavily sprinkle. And then behold the glitter bomb that goes off in your house! Be sure to shake off the excess OUTSIDE the house.
 Zoe LOVED being part of this process.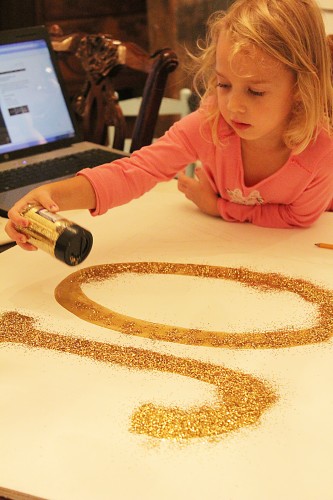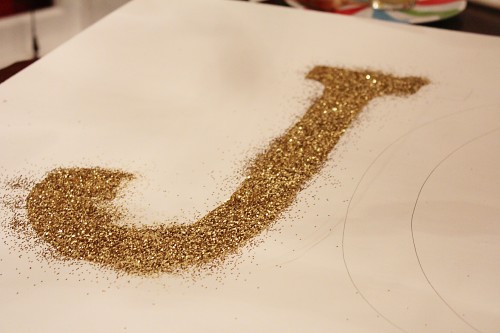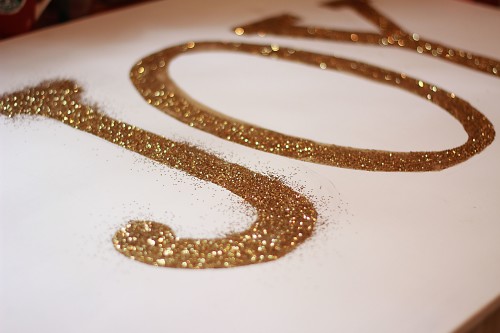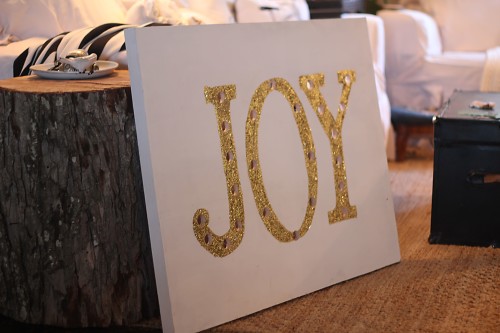 #6. After the paint is dry, insert the patio lights! Take them apart first, then screw them together with the bulbs on the outside of the marquee, the sockets on the backside.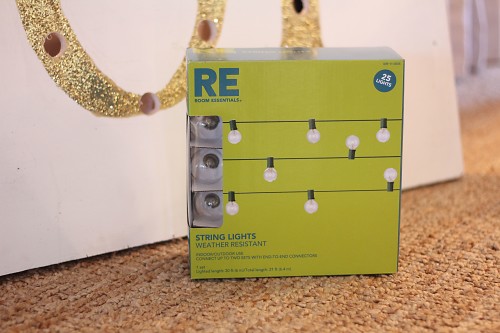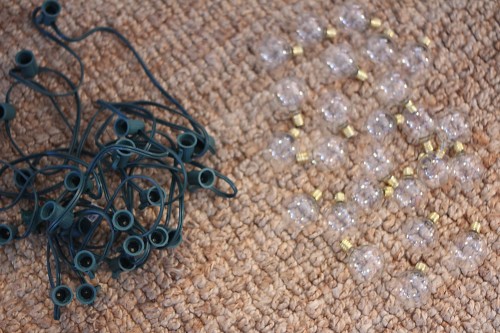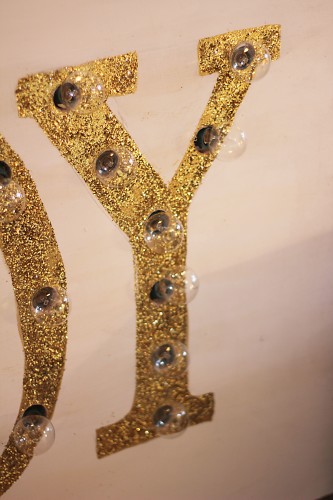 The backside will look like this when you're finished. Be sure to have the cord on the side closest to your receptacle. I still needed to use an extension cord because my outlet isn't very close.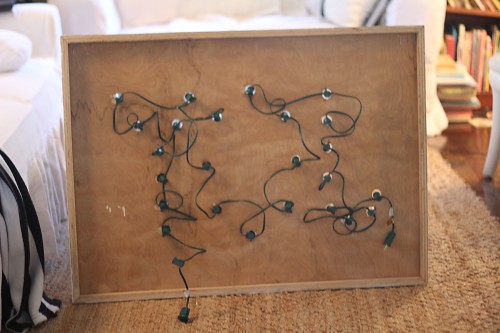 #7. Hang your beautiful masterpiece and enJOY!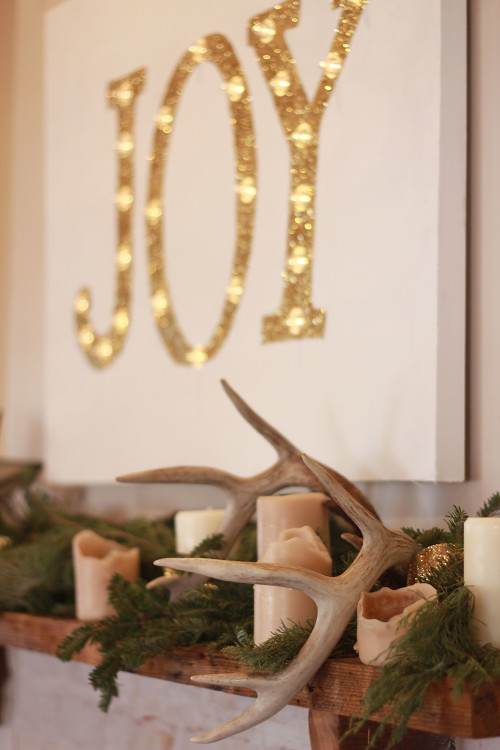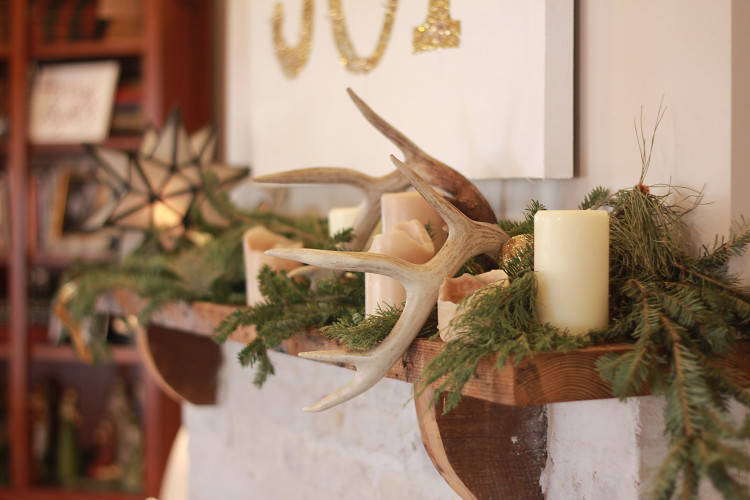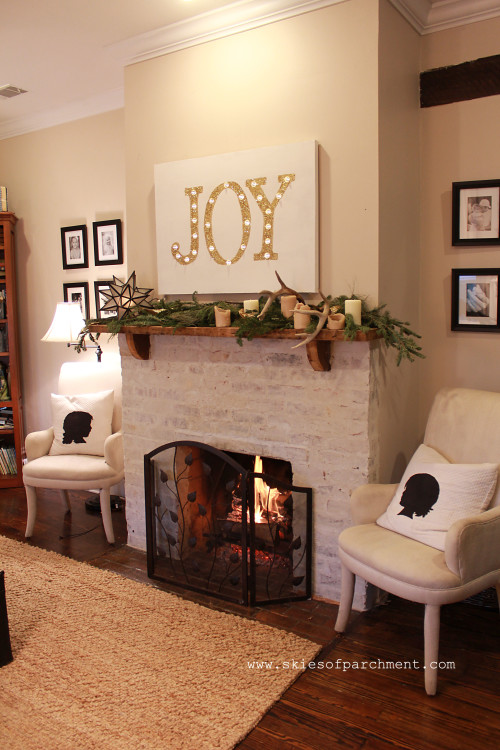 Have a wonderful first week of December